2nd Annual SA Fun Ride 2018 Debrief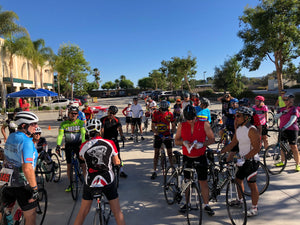 The route was great, the beer and pizza were better. The weather could have been slightly more cooperative as Carol's Garmin registered 102℉ at one point. The ride commenced after a brief thank you for all attending for the support received over the years; and with the sounding of a Shoreline Marine Airhorn by Andy at 8:30 riders set off for 35 miles winding through the hills of North County and Poway.
The first rider back, a member of the Cyclo Vets Cycling Club, rolled in around 10:30 just as the crew from the Spitting Lama Brewing Company had finished tapping the kegs. All was well. Riders continued to trickle in over the next hour and a half, and around noon pizza started popping out of the wood oven trailer provided by Inferno pizza.
We want to say thank you again to all our riders, locally and internationally who have made this event possible and have been supporters of ours over the last 12 years.
We look forward to riding with you.