3 Bike Saddle Components That Matter For Any Cyclist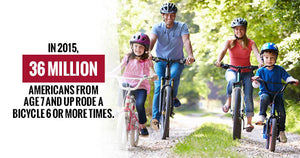 Bicycling is one activity that has never really gone out of style. In fact, in 2015, nearly 36 million Americans over the age of seven rode their bicycles six times or more. But while our love for cycling hasn't changed, trends in bicycle saddles certainly have. There are all types of bicycle saddles available, many of which claim to be the most comfortable bike seats around. But in your quest to find the comfiest seat, you should pay particular attention to these three components.
Shape
Contrary to what you might think, the most important part of your saddle isn't its size or width; it's actually its shape. No matter what types of bike saddles you're considering, the shape tends to matter most. The shape you choose should be determined by the kind of cycling you do. The faster you ride, the narrower the bike saddle shape should be. Your flexibility and riding position matters too, keep in mind that a wide saddle doesn't equal comfort. In fact, these saddles are usually what leads to perineal pain.
Materials
These days, there are all kinds of materials used in bike saddles --everything from plastic and steel to carbon fiber and leather. Lightweight saddles often provide more comfort and speed. Leather saddles are considered to be among the most comfortable and high quality on the market. They may not look particularly cushy, but the hammock-like shape they provide is far better for your rear end and will allow you to stave off pain on long rides.
Extras
There are many types of bike saddles that contain cushioning, which you might think would make for a better ride. But if you ride for long periods of time or travel great distances, this padding may end up being your worst enemy. Soft cushioning will feel nice when you first sit down, but it will quickly become problematic. If you're looking for additional features, it's better to look for cut-outs. These slots are meant to prevent numbness and pain. Although every cyclist is built differently, most find that these slots provide better long-term comfort than excessive padding.
Whether you're new to cycling or are a seasoned pro, you need a high-quality seat to get you where you want to go. For more on our types of bike saddles and how they can keep your rides pain-free, contact Selle Anatomica today.