6 Extreme Cycling Events Around the World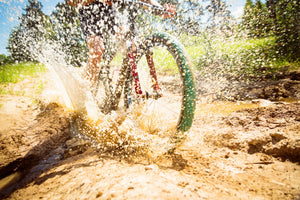 There are plenty of ways for cyclists to push themselves. You can always try to add another 10 miles, reach for one more climb or train for a more competitive race.
But sometimes that's not enough. Some of us are driven to extremes. If you're itching to test your limits, we've got a bucket list just for you. These are some of the most extreme cycling events around the world.
While it's true that many of these are already canceled for 2020 — or at least postponed — due to the coronavirus pandemic, there's nothing like a little dreaming and planning to get you through to when cycling events are back. So, whether you need something to train for or just want to marvel at how crazy some ultra-cyclists can get, here's our ultimate list of the biggest cycling events in the world.
Race Across America (U.S.)
It may not be quite as crazy as Forrest Gump running across America, but it's close. The Race Across America (RAAM), which began in 1982, is ultra-cycling's oldest event. This major cycling race takes place every June and runs from Oceanside, California, to Annapolis, Maryland — a total distance of nearly 3,000 miles (4,500 kilometers).
Amateur and professional racers from all over the world ride in RAAM solo or in teams of two, four or eight. They race day and night, pushing themselves to the limit. Many don't finish. For those who do, it typically takes eight to 10 days of nearly uninterrupted riding (many riders just take power naps). The record is currently held by Austrian Christoph Strasser at seven days, 15 hours and 56 minutes.
Dragon Devil (Wales)
Some extreme cycle races aren't all about distance. This short little race clocks in just shy of 190 miles (300 kilometers), but it punishes even the toughest riders. When it's all said and done, participants climb nearly 3 miles (5,000 meters) from start to finish.
The brutal climbs culminate in Devil's Staircase, a mind-bending road full of hairpin turns and an average gradient of 12.5%. It's an ascent only for the fittest of the fit. It will have you so winded you might forget to notice you're rolling through the beautiful Welsh countryside.
Transcontinental (Europe)
Founded in 2013, the European version of RAAM changes a little every year and takes riders between 2,000 and 2,600 miles (3,200–4,200 kilometers) across continental Europe in July. The 2020 race, which has been postponed, was scheduled to run from Brest in western France to Burgas in Bulgaria.
The Transcontinental is a fully self-supported race, meaning that ultra-cyclists must plan and execute their own routes and choose their own resting stops. They can't accept any outside assistance during the event. Apart from hitting the four checkpoints, they're on their own — toting their own equipment and all. Most riders complete the race in seven to 10 days.
Absa Cape Epic (South Africa)
Unlike the Transcontinental, this ride is fully serviced so riders can focus solely on racing. But that doesn't mean it falls short of its name. Not even close — in fact, this is the only race classified as "hors catégorie" (beyond category) by the UCI, so "epic" seems a fitting appellate. 
Like some of the other biggest cycling events in the world, the exact route changes each year, but the March event takes 680 two-person cyclist teams roughly 430 miles (700 kilometers) across the Western Cape of South Africa. It features an especially challenging mix of terrain, from dusty roads and forest single tracks to rock climbs and difficult descents. Over roughly eight days, riders gain more than 10 miles (16,000 meters) in elevation.
Taiwan KOM (Taiwan)
If you thought the Dragon Devil sounded like too much of a slog, then think twice about this race. At only 65 miles (105 kilometers), it's the shortest event on our list, but that doesn't make it any less intense.
In fact, this event, which happens every October, is only for the most anaerobically extreme cyclists. You'll climb 2 miles (3,275 meters) in that short distance, so — if you make it — your legs won't soon forget the burn. Some of the best cyclists have called it their "hardest single day on the bike."
Trans-Siberian Extreme (Russia)
This race is the beast of all beasts — the ultimate test of endurance. Comprising 15 stages, stretching over 5,657 miles (9,105 kilometers), and passing through eight time zones over 25 days, this is a truly extreme cycling event.

As cyclists race across Russia, they pass through five distinct climate zones, making this an especially difficult event to train for. Many of the solo participants don't even finish. If you're new to the world of extreme cycling, you may want to start with some of these others before you test yourself at this one.
Cyclists will never fail to come up with new ways to test their limits. These are just a few of the most intense and most famous bike races around the world. Maybe you have a favorite that's not on this list. If so, let us know in the comments below.