8 Legendary Road Cyclists From Around the World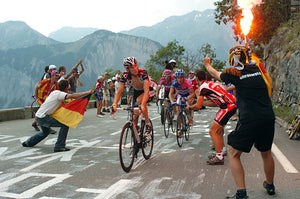 The sport of cycling has graced us with some of the most impressive athletes in history. Countless men and women have pushed the limits of human strength and endurance to break impossible boundaries, all with the help of just two wheels. 
Choosing the best cyclists out of this ever-growing list of greats may seem a pointless exercise — after all, these debates have been raging for decades. But that won't stop us from trying. At the least, reviewing these giants of cycling lore only reminds us why we love the sport in the first place. 
So, for what it's worth, here's our own list of road cycling legends from around the world. To keep it interesting, we're only selecting one per given country, so that we can span a bit more of the world. So, without further ado, and in no particular order … here are eight of the greatest road cyclists of all time.
Italy: Fausto Coppi
Italy has probably produced the most legendary road cyclists of any country, and "Il Campionissimo" is the greatest cyclist of its long list. Fausto Coppi dominated cycling before and after World War II, and would probably hold even more titles if it weren't for that long interlude. He held the hour record for 14 years, from 1942–1956, and he would often lead his opponents by 10 minutes or more. His other accolades include 28 Classics crowns and seven Grand Tour victories. His nickname means "champion of champions," and it's a fitting title.
France: Bernard Hinault
No list like this is complete without Bernard Hinault. Known for his aggressive racing style, "The Badger" is often held second only to Eddy Merckx in definitive rankings. The latter is good company for Hinault — the two are the only riders in history to win the green, polka dot and yellow jerseys at the Tour de France. Hinault dwarfed other cyclists in the 1980s. His palmares include five Tour de France wins (and 10 total Grand Tours), four out of five Monuments, 52 time trials, and a world championship. He's the only cyclist ever to win all three Grand Tours in a year more than once, and the last Frenchman to win the Tour de France.
The Netherlands: Marianne Vos
Yes, women belong on this list, too. Outside Magazine called Marianne Vos the best cyclist in the world, and for good reason. She's one of the most diversely skilled cyclists ever — her victories include road, track, cyclocross and mountain biking, and no man has done that. You could argue she's not a pure road racer, and you'd be right. But her sheer versatility and dominance earn her a place on our list. She's a two-time Olympic gold medalist, three-time winner of the Giro d'Italia Femminile, and a five-time champion of the UCI Women's Road World Cup. And that's just the tip of the iceberg. She may still be around for a while.
United States: Lance Armstrong
Ah yes, the King of Controversy. And King of the Tour de France, even if those victories are crossed out. Say what you will about Lance Armstrong, his cycling feats are undeniable, even with the doping asterisk (an asterisk, we might add, many others deserve). He won the Tour de France seven years in a row, and he did it after recovering from cancer. Those may no longer be official, but it's still something no one else has done. Armstrong also holds a World Championship title, two Tour DuPont victories, a win in the Clásica de San Sebastián, and an Olympic bronze. His record may be marred, but his legend will live on in the sport.
Ireland: Sean Kelly
Sean Kelly is Ireland's finest contribution to cycling history, and he earns a well-deserved spot among the famous road cyclists. Despite only winning one Grand Tour (the Vuelta a España in 1988), Kelly dominated one-day races in the 1980s.  He holds nine Monument victories (plus an additional Classic) to his name, among his 193 professional race wins overall. Perhaps his crowning achievements, though, were his seven-year dominance of the Paris-Nice stage race from 1982-88 and his place as the first-ever winner in the UCI Road World Cup in 1989. Kelly also held first place in the FICP rankings for the first five years after they were introduced.
Spain: Miguel Indurain
Since Lance Armstrong's seven wins were disqualified, Miguel Indurain is the reigning champion of consecutive victories at the Tour de France, with five in a row. He also won the Giro d'Italia twice, for a total of seven Grand Tour victories. During a stretch from 1991–94, he was only defeated one time in his outings on the Grand Tour circuit, and he placed first in eight out of 10 time trials on the Tour de France. At 20 years old, he was the youngest man ever to lead the Vuelta a España. Indurain earned his nickname, "Big Mig," for being perhaps the heaviest rider ever to win the Tour de France.
Belgium: Eddy Merckx
"The Cannibal" was known for eating up every opponent he faced, and he is pretty much the undisputed greatest road cyclist of all time. Not only did Eddy Merckx win 11 Grand Tours, but his 65 stage victories amidst all of those GT wins is a world record unlikely ever to be broken. He held the hour record for 12 years, from 1972 to 1984, and won the 1969 Tour de France by 18 minutes. His other accomplishments are far too many to name but include more than one victory in all five Monuments. Merckx holds an astonishing 525 wins to his name, and he did it all with a heart condition. 
England: Beryl Burton
Time will tell if Marianne Vos will unseat her, but for now, Beryl Burton is widely considered the greatest female road cyclist of all time. In fact, she proved herself stronger than many men. Her performance at the 1969 time trial, in which she passed 99 men — and handed a licorice stick to the last — en route to victory is a story for the ages. Burton won 25 consecutive time trials, seven world championships (two road and five track) and 96 titles in her native England. She may be the hardest-working cyclist on this list, too — her accomplishments all came with no sponsor and no coach while she was a housewife and mother. That alone earns her a place among the legends.