A Ride to Remember 100 Years Later: Tommy Milton, 1923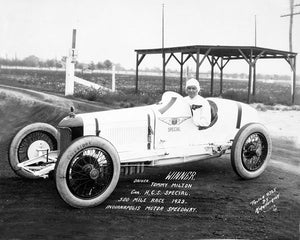 Memories have a unique power to inspire us. Some aren't even our own. They're passed down through generations and become more than mere records of the past — they reshape our dreams of the future.
At Selle Anatomica, one memory is particularly potent: that of our grandfather, Tom (Tommy) Milton. And this Memorial Day — a special time for recalling important memories — that memory is especially salient. A century ago this week, on the week of Memorial Day, 1923, Tommy Milton became the first man to win the Indianapolis 500 twice. That win did more than just establish his legacy as one of the greatest Indy car drivers of all time; it cemented a deep love of the road that would far outlast Tommy. Like all memories that turn into dreams, though, it just took a different shape than he would likely have imagined. 
From Roadster to Road Bike
You see, it was Tommy's grandson, Tommy Milton III, who would inherit his love of the road — albeit for a two-wheel ride instead of four. Tommy III, brother to our current owner, Carol, and uncle to Andy and Ryan, who run the company today, was an avid road cyclist.
Tommy III pedaled so much that he grew desperate to find a saddle that would help him keep riding. But he found that far too few saddles were really designed for distance riding, and he was fed up with saddle sores. So, when he couldn't find it, he created it. The memory that became a dream inspired something new, and Selle Anatomica was born in 2006. 
When Tommy III died unexpectedly in 2010, Carol knew she had to keep his dream alive. He'd already helped thousands realize their cycling dreams, but his work was far from finished. She took the company and ran with it, and we've been able to continue helping riders — whether veteran or brand-new cyclists — make new memories on the road ever since.
What's Your First Riding Memory?
Tommy's life and legacy inspired so much more than he could have ever imagined. Today, countless are riding because of him, even if they don't know it. That's why his memory means so much to us. 
Like us, you've probably got a first riding memory that inspires you to keep pedaling. It may not go back quite that far. Or, maybe you're just getting ready to make that first memory. Either way, this Memorial Day, we're inviting you to #memorializeyourfirstride with us in commemoration of the 100-year anniversary of Tommy's big win.
What's your most important cycling memory? Follow us on social media and share it with us for all to see and celebrate with the hashtag #memorializeyourfirstride. You never know where that memory might take you. 
Follow and participate on Facebook, Instagram, and Twitter.