A World-Record-Setting Ride — On a Selle Anatomica Saddle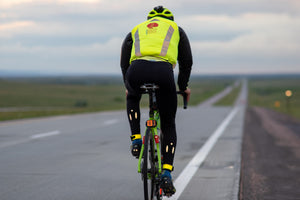 A Selle Anatomica saddle took an unprecedented journey this year. Since we launched nearly 15 years ago, we have heard countless stories of our saddles accompanying cyclists on some wild rides. But this one is taking the big prize — literally.
Through 48 states in just over 31 days, our X Series saddle supported one ambitious cyclist on his way to setting a (pending) Guinness World Record. 
Keith Morical, a former bike commuter turned hardcore randonneur over just the past few years, accomplished the impressive feat this summer. After completing several major rides in 2018 and 2019, including a journey from San Diego, California, to Jacksonville, Florida; Paris-Brest-Paris; and the Trans Am Bike Race, he was inspired to aim for something bigger. 
A Record-Time Cycling Journey Through 48 States
On June 14, 2020, Keith set out on his bike from the Washington-Oregon border with the goal of touching ground in all 48 contiguous states in just one month's time. As long as he could do it in less than 43 days, he would hold the world record. He was accompanied by only a two-person crew, along with a videographer and a photographer. 
To do so, he would need to trace a rough outline of a "W" across the U.S. The journey would cover nearly 7,100 miles — over 220 miles per day. He would have to cover every mile on bike, and the bike would need to fully cross the border of every single state. No drafting would be allowed, and everything had to be fully documented for Guinness. 
On July 16, just 31 days, 22 hours and 26 minutes after he started, Keith crossed the border into Maine, beating the world record by 12 days.
It's an inspiring accomplishment, and that's exactly what he was hoping for.
A Greater Purpose
After finishing second at the Trans Am Bike Race in 2019, Keith was motivated to aim for something bigger.  
"When I did the Trans-America, I did it specifically for me," he says. "I had been a workaholic, and I decided 'I'm just going to take the summer off and do this ride just for me.' … But when I heard all the people saying they were inspired, I thought  'The next time I do a ride like that, I need to give back.'"
Keith had already been working on a plan for his business, Actualiz, before the Trans Am, but he now found a fresh vision for the company. He decided to focus on helping people set goals and to use his own efforts as a way to inspire others.
"I decided to put out a little challenge for anyone who might be inspired seeing a 60-year-old ride across 48 states in a month to set their own single goal for how they could live to their purpose just a little bit more," says Keith. "What's one thing they could do, one goal they could set and achieve that would help them expand what they're doing in their life."
Little could he have expected that a pandemic would turn the world upside down, making the need for motivation and inspiration that much more urgent. His ride through every state, something he'd had his eyes on for a little while, gained new meaning — he would use it to show others what could be done when you set a goal and stick to it. 
Hearing about what he was up to, videographer Jeremy Rubier and photographer Kyle Miller decided to come along for the journey, not merely to document his achievement, but to see how others were finding inspiration, staying motivated and coping during the pandemic.
The documentary team asked people along the way questions such as, "What are you most proud of? What allowed you to do it? What's your biggest goal for the future and what is one step you can take toward achieving that goal?" They captured an array of answers and are mixing footage of the ride with these interviews for a forthcoming film that will capture what Keith's mission for Actualiz is all about. 
The Saddle That Lasted All the Way
We were thrilled to learn that Keith had accomplished his inspirational, world-record ride on a Selle Anatomica saddle. In fact, by the end of this year, he'll have logged a total of 50,000 miles on his two X Series leather saddles. 
When Keith committed to distance cycling a few years ago, he knew he had to get serious about dealing with saddle sores. He tackled the problem from several angles, including a hunt for the right saddle. After trying eight or nine different saddles — each for a minimum of 250 miles — he finally settled on ours.
"That saddle was by far the most comfortable one I found," he says. "I could not find any that felt good at all except for the Selle."
That's quite an endorsement, and we're honored to have it. But even more so, we're happy to know that our saddle played a small part in making something like Keith's mission to inspire people possible. If our saddle is making it a little easier to get out and make a positive impact in the world — especially during a time like this — then that's all the inspiration we need to keep at it. 
So, a special congratulations and thank you go out to Keith Morical for trusting us to keep him comfortable for his record-setting ride. We hope it inspires you to tackle something big in 2021!
Photo: Kyle Miller