All About Bike Camping: What Cyclists Need To Know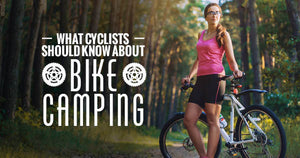 Avid cyclists know they'll undoubtedly embark on their fair share of rides this summer. But if you're looking for a way to share your love of cycling with your family and friends -- or simply want to incorporate it into a beloved American pastime -- you may want to consider bicycle camping. The camping industry is one that keeps growing, as does the bicycle industry. In 2015 the bicycle industry direct sales, which includes all types of bike saddles including carbon fiber bike seats, clocked in at $6.2 billion. For those who are interested in combining these recreational activities and immerse themselves in nature while doing so, here's what you need to know about bike camping.
What is bike camping?
It's just what it sounds like: camping via bicycle! Instead of traveling via RV or on foot, you'll use your bikes (ideally, equipped with comfortable carbon fiber bike seats) to explore scenic campgrounds and biking trails in some of the most tranquil parts of the country.
What kind of gear do you need for bike camping?
First of all, you'll need to keep in mind that although your bike can technically handle quite a bit of extra weight, you'll have to exert more energy to handle larger loads. So while there's gear you can't afford to leave out, try to keep the rest of the packing on the light side. Here are a few things you'll definitely need:
Bikes for each person with comfortable bicycle saddles

Bike bags, trailers, and/or racks

Bike lights, flashlight, and headlamp

An air pump and patch kit

A tent and sleeping bag(s)

Clothes for riding and camping (one set for each is enough)

Layers (hat, gloves, warm and weather-resistant jacket)

Towels and necessary toiletries

Batteries and First-Aid kit

Food and water (and any lightweight cooking supplies)

Maps

A camera and/or notebook

Identification, medical info, cash, and insurance cards

Sunscreen, lip protection, and bug spray

GPS, navigation app, or compass
How much does bike camping cost?
Relative to camping in an RV or cabin, bike camping will save you a bundle. Depending on the campsite, you might spend anywhere from $5 to $20 per night. If you were to camp in more conventional ways, you could end up paying twice that. Be sure to research campgrounds in the area that have especially good bike trails!
How should we plan our route?
Once you've equipped your bikes with comfortable carbon fiber bike seats and have all of the other gear you need, you should start planning your trip. Do this well in advance of your departure date to ensure you haven't missed anything. Plan on traveling 20 to 25 miles a day. This will keep you moving at a healthy pace but won't keep you from missing any of the amazing sights. Use resources like Bikely to find great routes in your camping area.
If you want to help get the family active and enjoy camping this summer, this is a great way to go about it. Before you head out, make sure that everyone has either carbon fiber bike seats, or other comfortable seating, and that their bicycles have been serviced by professionals. That way you'll have one less thing to worry about while navigating the trail. Happy cycling!