Bicycles vs Cars Worldwide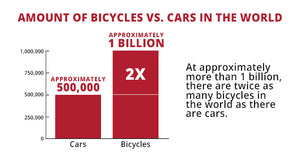 There are now twice as many bicycles -- 1 billion, all told -- in the world as there are cars. But when it comes to choosing comfortable bike seats, there's a lot of conflicting information out there. It can be difficult even for a seasoned cyclist to decide what kind of saddle will provide the highest levels of comfort and quality. Some may believe that a wide, paddled saddle is the solution for perineal pain. But those who have years of expertise understand that this is actually a huge misconception.
In fact, you'll likely find relief and support from the saddle that looks like it provides the least amount of cushioning: the high performance leather bike saddle. Here's why so many cyclists are happier riding with seats made of leather.
They're more comfortable bike seats
You might not believe it when you look at them for the first time, but there's a reason why leather bike seats are actually a lot more comfortable than other options. In particular, ours have a patented slot that provides relief for pain. This is key for long-distance cyclists, in particular. Other slots don't address the natural movement cyclists experience during a long ride. But because these slots do, you'll be able to ride longer and harder without pain.
They're already soft
Breaking in most leather saddles can be a pain (literally!). Cyclists often have to waste time and money to break in seats that don't immediately provide the support they need. But since our leather is soft to begin with -- we don't soak it or bake it -- you won't have to worry about whether your saddle is going to cause you more pain in the meantime. And because the leather moves with you and molds to your body, you'll essentially get a fit that's tailor-made to your proportions and needs.
They're made in the USA
As citizens of this nation, most people want to support American businesses whenever they can. When you choose Selle Anatomica, not only do you get a better assurance of quality, but you're supporting your local economy while investing in yourself. Although there are some international companies that make a great saddle, a lot of the other leather saddles that are made outside the U.S. are produced by those who don't actually know what cyclists need. We've made cycling and perineal pain relief our business; we know what we're talking about. What's more, we employ American workers and invest back in the U.S. economy. When you purchase our products, you can be proud to know that it's made right at home using only the best materials and processes.
Want to find out more about how our leather bike saddles can make for a smoother, more comfortable ride? Check out the leather bike saddle selections on our site or contact Selle Anatomica today!