Bike Shorts: Don't Make This Fall Mistake With Your Cycling Gear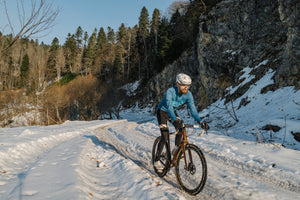 When it comes to cycling clothes, cyclists love those easy summer months. From late spring to early autumn, you don't have to think too hard about what you'll wear for a warmer, and likely sunny, ride. A jersey, cycling shorts, bike shoes, and a pair of gloves will just about cover you. Well, that and a whole lot of sunscreen. 
Then fall comes along, and everything starts to change. From the falling leaves to the dropping daylight, the signs of the coming winter are in the air. And that means you're going to need a lot more cycling gear to layer up for those upcoming cold rides.
The problem is that a lot of cyclists make a key mistake when planning for their winter cycling needs. Longtime cycling coach Darryl MacKenzie has seen the seasonal dilemma too many times, so he's got some precautionary advice for avid cyclists.
Before we get to the big winter cycling wardrobe mistake cyclists make, though, let's review everything you'll need for those cold rides. 
Assessing Your Winter Cycling Needs
Cold weather cycling rides are certainly a more complicated outing for the cyclist. In addition to the basic jersey, shorts and shoes, you'll need the following to keep cycling properly with the seasons: 
A winter cycling jacket: Most cyclists have a few of them to match different gear during the winter months.
Tights or full-length cycling pants: You definitely don't want your legs—and especially your knees — exposed to the cold air, so you'll either need tights that cover your shorts or full-length cycling pants with a built-in chamois. These can get threadbare fairly quickly, so this is the most likely component you'll need to replace before winter arrives.
Winter socks: You'll probably want higher, thicker socks to cover up your ankles in the frosty air of winter, and you may not even have worn socks in the summer.
Long-fingered cycling gloves:  Those half-fingered gloves you used over the summer won't cut it for wintertime. Make sure you protect those fingers from frostbite with full coverage!
A carrying bag: Many cyclists like to have a lightweight carrying bag — one they can easily toss over their shoulders like a backpack — for stowing gear as they take off layers when they get hot.
You may have all these must-have items on hand from last winter, but it's important not to assume you're good to go. Since all are essential for cold-weather cycling, you need to conduct a complete inventory of items to ensure everything is still in good shape and ready to use. 
The Big Mistake Cyclists Make in the Fall 
Solely conducting an inventory of your cycling wardrobe, however, isn't quite enough. And it's in the timing of that inventory that many cyclists go wrong. 
"The early cyclist gets the warm … clothing, that is," says Coach Darryl.
What does he mean? Well, consider how retail inventory typically works. Your local bike shop's winter cycling gear inventory will usually start to arrive sometime in late summer and early fall. If you wait until you're finally feeling the cold to search through your old pile of cycling clothes, you're already too late — and in danger of not finding what you need. 
"The smart cyclist gets to the store to get the best products before the cold wind starts to blow," Darryl explains. "If you wait until the wind is blowing and it's the time that you really, really need this stuff, it's going to be picked over."
If you want to purchase the best colors, warmest materials, and best-fitting clothes that will actually equip your essential cycling wardrobe, don't put this off. Especially if you wear some of the most common sizes or very uncommon ones. Either one of these low-stock sizing options is liable to disappear from shelves quickly.
To ensure you give yourself plenty of time, Labor Day is a good time for an annual cycling wardrobe review. This holiday is an easy date to remember and a long weekend with a little extra free time. Plus, it's still summer, so you've got time to order what you need before your options are limited.
While it may not technically be winter cycling gear, your saddle is essential for year-round comfort on the bike. Check out our collection of tensioned leather saddles, and make sure you've got one that can keep you comfortable on a ride — rain or shine, hot or cold. 
Look for more insights from Coach Darryl over at his website.