Bike Shorts: Everything a Cyclist Needs for a Tire Change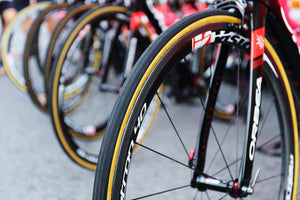 No cyclist wants a flat tire. And, thankfully, they don't happen all that often. When they do, though, it can be a big headache for you and everyone you're riding with. 
That's especially true if you're unprepared. 
"Many first-time cyclists never think they have to bring along supplies on a ride, and they end up getting a rude awakening when they have a mechanical," says longtime cycling coach Darryl MacKenzie. 
Take it from a man who's had six flats on a single ride. When a flat comes, you want to be ready with everything you need. With that in mind, let's look at everything a cyclist needs for a tire change.
Essential Tire-Repair Supplies To Have on Your Ride
Fixing a flat is a relatively simple job, but it does require a few tools to do it efficiently. If you're riding solo, it's important to double-check your supplies before every ride. These days, in light of COVID-19, you may find fewer cyclists are willing to stop and lend a hand, so that makes it all the more critical to be prepared. 
"As a general rule, the more miles you ride, the more supplies you need," Darryl adds. Here's what he keeps on hand for every ride: 
2 spare tubes (3 for 50-plus mile rides)
2 extra CO2 chargers (4 on longer rides)
A CO2 adaptor/regulator
2 tire levers

 

A hand pump in case you run out of CO2.
A spare "boot" (A folded dollar bill or spare piece of tire you can use as a temporary patch if the tire itself has a hole in it)
Keep all of this in your saddlebag, and always double-check to ensure you have your bag before you set out on a ride. Some Trek bikes even have a compartment built into the down tube where you can store these supplies.
Another thing Darryl says is worth noting? Don't put any used supplies back in your bag! They'll likely just get left there and make it difficult for you to know if you have what you need. He puts anything he uses in a jersey pocket, so he's reminded to throw it out and restock when he gets home.
Backup Supplies To Have at Home 
That's everything a cyclist needs for a tire change or fixing a flat on a ride. But preparation starts at home. If you don't have a good inventory of essentials on hand, you're liable to find you don't have what you need when it comes time to ride. 
In your garage, exercise room or supply closet — wherever you keep your cycling supplies — always be sure you have several backup tires and at least four tubes on hand. Darryl also keeps 10 spare CO2 cans so he's never close to running out. 
If you have supplies available, you won't be stuck empty after a Saturday ride with no time to restock before a Sunday outing. It's much easier to plan a trip to the bike shop for restocking at your convenience than when you're about to go ride.
Hone Your Flat-Fixing Skills Before You Ride 
Of course, none of these supplies come in handy on the road unless you actually know how to use them. To hone your skills, Darryl recommends practicing at home rather than trying to figure it out while all your cycling friends are standing around waiting. 
We have an in-depth post on how to change a flat on a ride, so let that be your guide for practicing. It will help you learn how to use your CO2 cans and regulators and make sure you don't ruin your new tube when you put it in. When you're practicing, be prepared to waste a CO2 can or two — and maybe even a tube if you overfill one. 
Think you have everything a cyclist needs for a tire change? Time to get off the screen and go find out.
Look for more insights from Coach Darryl over at his website.
Photo by Daniel Llorente on Unsplash