Comfort Tips For Long-Distance Cycling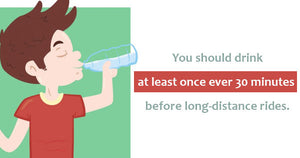 Even for experienced riders, long-distance cycling can be a huge challenge. If you want to be successful, dedication and passion are a must. Of course, you need to have great equipment, too. Since outdoor enthusiasts spend over $10 billion a year on bicycling gear, accessories, and vehicles, you need to make sure your investments are sound ones.
With experience, you'll gain more knowledge about what kinds of equipment work best for your needs. The last thing you want is to finish a long-distance ride in physical pain. Fortunately, if you know what kinds of equipment to look for, like comfortable bike seats and saddles, you'll be able to ride pain-free. Here are a few tips about what to look for and how to prepare for long-distance cycling.
Wear the right clothing
You may not think your choice of clothes may make a huge difference in how you feel when you're on your bike, but it's a component you shouldn't underestimate! Regular gym shorts or lounge pants may feel comfortable, but they can wrinkle and ride up, creating pressure points and pain. Instead, invest in some high quality bicycle shorts without bulky seams. They're designed to lie flat against the skin, so you won't feel any discomfort due to your duds.
Choose the right bicycle saddle
For long-distance rides, firm and supportive saddles are usually best. For many people, leather bicycle saddles will be the way to go. Although gel seats may feel cushy and nice at first, they're really designed for people who don't ride frequently. They can also break down more easily and will actually be less comfortable over greater distances. If you want to avoid perineal pain while cycling, leather bicycle saddles are often the best bet.
Fuel up
Hydration is key on long-distance rides. Be sure to drink enough water leading up to your trip. You should drink at least once ever 30 minutes. During that time, you should consume an energy bar or dried fruit. You should never feel hungry during a ride; that's a sign your body is going to run out of energy. Don't forget to bring food and drink with you!
Use handlebar tape
Something as simple as bike handlebar tape can make a huge difference in how comfortable your ride is. Leather handlebar tape will often cause riders to feel a stronger connection to the road. Other riders may prefer tape with gel integration, but that extra cushioning may be too much for some. Try out a few options and see which type works better for your needs.
At Selle Anatomica, our equipment can ensure a smoother, more comfortable long-distance ride. For more information about our leather bicycle saddles or bike handlebar tape, contact us today.