Do's and Don'ts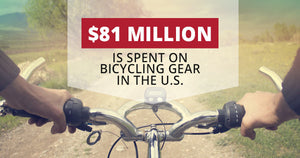 If you're a cyclist who rides hundreds of miles every week, comfortable bike seats are a non-negotiable. But for serious cyclists, it's not enough just to have a comfortable bike seat; their saddle also needs to be suitable for high performance. Leather bike saddles provide both the comfort and quality that elite cyclists need to go the distance.
Superior bike gear comes at a price, as is evidenced by the $81 million spent on bicycling gear throughout the United States. Making an investment in a leather bike seat is a must for many cyclists, but these saddles do require a bit more care. As long as they're treated properly, your leather bike seat will last for years to come. Here are a few dos and don'ts to follow to make sure your comfortable bike seat stays in tip-top shape.
Do...
One of the first things you need to do when you get your leather seat is waterproof it. Our leather bike saddles do not come pre-waterproofed, although the top of the leather is watershed. You'll need to apply our Saddle Sauce to any raw edges and the bottom of your saddle, especially if you plan to ride in humid or wet conditions.
If you live in a hot and humid climate or even if you break a big sweat while riding, you may want to consider reapplying Saddle Sauce prior to getting on your bike. The leather will absorb moisture out of the air (or from your sweat), which can cause it to stretch out. Since excessive moisture isn't covered under our guarantee, you'll want to prevent this absorption.
You may find that your riding becomes more comfortable when you adjust your seat tension. During your first few rides, you'll probably need to adjust this. The humidity that's in the air plays a part in how much tension your saddle should have, too. The slot in the rear of your saddle should be 6 millimeters wide. If you feel or notice slot edges are touching, you'll need to open them up slightly by adjusting the tension bolt. As the leather saddle adjusts to your body, you'll start to notice that it takes on a curved appearance. Typically speaking, if your saddle looks straight from the side, the tension is too tight.
Don't...
On rides, you should carry at least a shower cap or grocery bag with you to protect your comfortable bike seat from the rain. Even if you've waterproofed it, it can still absorb that moisture. The cold weather won't damage your saddle, but that rain will.
Our Saddle Sauce is acrylic-based, meaning that it sits on top of the leather and creates a barrier which moisture cannot seep through. It eventually does wear off, which means you'll have to reapply it every once in awhile. You should not use any waterproofer that contains silicone or conditioning solvents; these will soften the leather but won't protect it from the elements. It's best to use our product, as we can guarantee it works for our saddles.
Do not apply Saddle Sauce to the top of your saddle. It's watershed, meaning that the tanning mixture used on that part of the saddle contains additives that repel water. Therefore, it does not require additional waterproofing treatment.
For cyclists who are looking for a better bike seat solution, our leather saddles can provide much-needed relief -- as long as you care for them correctly. To find out more, please contact Selle Anatomica today.