How Our Saddle Ended up on Boris Johnson's Bike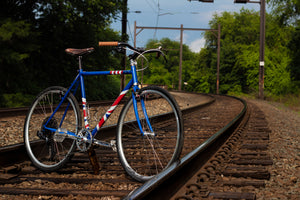 Sometimes we get requests that are just too good to pass up.
When Stephen Bilenky of Philadelphia-based Bilenky Cycle Works reached out with an urgent request for a Selle Anatomica X1 Saddle for a custom bike he needed to build in two weeks' time, we were intrigued. Once we found out it was for a diplomatic gift from the U.S. State Department to an unknown world leader, well, how could we say no? Duty to our country called.
Well, we couldn't be more pleased with the result. The bike turned out to be big news last month when President Biden presented it to U.K. Prime Minister Boris Johnson at the G7 summit in Cornwall, England.
That's a beauty, isn't it? We think it turned out perfect for Johnson, a known lover of bike commuting.
Of course, when this whole thing kicked off, neither we nor Bilenky knew who the bike was for. He received a cryptic email from the State Department a week before Memorial Day, requesting a custom-built bike for a "diplomatic gift" by June 4. There were a few details about colors and a mention that the recipient was 5-foot-8 and 180 pounds, but that's about it. 
With less than two weeks to build a bike he would normally spend months on, Bilenky had to get to work fast contacting potential suppliers. We were thrilled when he reached out.
"They just said 'We were looking for American-made bicycles on the internet,'" Bilenky recalls. "When they said we want an all-American bike, that was the first thing I thought of. We should have a Selle Anatomica saddle on there."
The community of USA-based hand-made bicycle component makers is a small and tight-knit one, so we're always on the lookout for ways to support each other. It's rare that something we do together gets so much publicity, though. 
"People in the U.K. seemed really excited about this whole thing," says Bilenky. In fact, media outlets from both sides of the pond were flooding him with inquiries after the gift went public. As of yet, there haven't been any sightings of Johnson pedaling through London on his new roadster, but we've got our eyes on social media.
For now, given that we're coming up on the Fourth of July and there's a bit of history there between our two countries, we like to think this was our small contribution to a peace offering.