How to Get Back on the Bike After a Bad Crash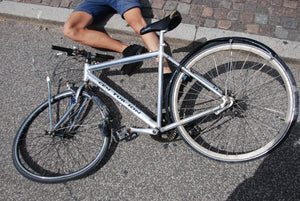 If a bad crash has ever forced you to hang up your bicycle for a while, you know how bad the itch to get back on the bike can be. That first ride can't come soon enough.
But when you're recovering from a cycling accident — or any significant physical setback, for that matter — those first weeks of riding again are one of the most tenuous times. If you rush it, you risk undoing all of your hard, patient work by re-injuring yourself.
"If that happens, you've wasted your recovery time," says cycling coach Darryl MacKenzie. "You've wasted any medical time that you've had. You now have to repay those days and weeks — and it's very possible that your body is going to be more susceptible to injury in the future because you've weakened that area a second time."
To ensure you can start — and stay — riding again safely, you need to follow a few important steps that Darryl has used many times during his own rehabilitation periods over the years. Once you have done any physical therapy or other recovery work needed before getting on the bike, these tips for getting back on a bike after a bad crash can help you slowly ramp up your rides back to your pre-accident levels. 
2 Things to Avoid 
Before you take that first ride, it's critical to set some firm limits. You want to steer clear of two things on these early rides: cycling too hard or for too long. The intensity and duration of your rides will need to be far below what you were used to prior to the accident.
Coach Darryl watched one of his friends suffer the consequences of pushing too hard after a knee surgery. A few weeks after he resumed riding, it was as if he needed the operation all over again. When that happens, it's a terrible feeling of defeat.
Unfortunately, there's no easy way to know what that threshold for riding too long or too hard is for you after your specific injury. There are too many variables from rider to rider to have clear-cut rules.
"The only thing you can do is to be conservative so that you don't risk being one of those riders who re-injure themselves," says Darryl. That's why the steps to get back on your bike again after recovering from a cycling accident should err on the side of caution.
Step 1: Your First Time Back on the Bike
For that very first ride, there are four keys to keep in mind. 
Do it alone. "No matter who you're riding with, they're used to going farther and harder," says Darryl. "And if you're under peer pressure to keep up, you're in trouble."
Stick to the flats. Remember, you're trying to keep your intensity down. Avoid any climbs and aim for a steady, even ride on flat terrain. A stationary trainer is the best way to make this happen, but you can do laps in parking lots, too.

 

Keep your heart rate down. This is your most obvious marker of intensity, so watch it closely. On your first ride after recovering from a big crash, it's probably wise to keep your heart rate below 100 bpm.
Pedal far less than a normal ride. Coach Darryl's last 2 initial rides after a recovery were 2 miles and 7 miles. After you do this, watch for signs that you've overdone it one the next day or so. 
Step 2: Progressively Add Miles Without Changing Intensity 
To begin rebuilding your endurance, you can start slowly lengthening your rides. But it's incredibly important at this stage that you don't increase intensity. Your only goal in these early weeks is to add distance.
As you recover lost ground from your cycling accident, continue avoiding hills while adding a few miles to each ride. Over the next few weeks, you can work up to riding 25 or 30 miles before pushing your heart rate up. You're probably safe to have your pulse at 120 bpm, but Darryl doesn't recommend going any higher.
Step 3: Gradually Add Intensity
Once you're riding those longer stretches, you can start to push your intensity level a bit while keeping your 25–30-mile rides. Add small hills to build strength and get used to gradually harder rides. As you adjust, you can go for steeper inclines or longer stretches of hills. 
Again, caution is the word. Don't overdo this — it's not worth it! It's much better to incrementally build intensity and avoid injury than to force your body into something it isn't ready for. When you can pedal your 25–30 miles at a typical pre-injury pace, you can gradually add more to that distance.
Far too many cyclists rush themselves to try to get back to their former fitness glory after a big crash. But think of it this way: Would you rather get back to long, hard rides two months sooner or be able to enjoy riding for many years to come? Sometimes the choice is that simple.
Look for more insights from Coach Darryl over at his website.
Image by AndersAndersen from Pixabay