How To Set Up the Fields on Your Bike Computer Screen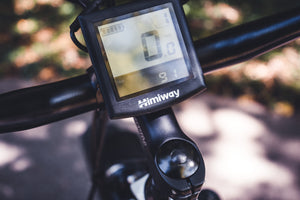 When cycling computers first arrived, it was revolutionary for riders. To suddenly be able to easily and precisely track your ride distance right from your bike was an incredible improvement. Having a palm-sized GPS right on your handlebars was, simply put, a game changer.
But those early GPS devices pale in comparison to today's cycling computers, which provide a wealth of ride information that cyclists find useful during and after their rides. You can now track everything from heart rate and speed to power and climbing grade.
If you want to make use of this data while riding, though, you need to know how to do it quickly and safely. For that, nothing is more helpful than knowing how to set up your GPS screen. And longtime cycling coach Darryl MacKenzie has this down to a science.
The 2 Problems With Cycling Computer Screens
Despite the power of today's cycling computers, most cyclists don't even begin to tap into their potential. They have a powerful device in their hands but only use it for tracking the most basic information.
"Most people aren't thinking about it," says Coach Darryl. "They get it out of the box, they put it on, and away they go."
That's a shame, he points out, because you're not getting anywhere near what these machines have to offer for helping you improve as a cyclist.
On the other hand, some riders rely far too much on their Garmin or other cycling computer. They can't stop fiddling with their screen, and that's a much more dangerous problem.
"Some people can get themselves into trouble spending more time looking at the screen than looking at the road," Darryl says.
Tips for Arranging Your GPS Screen Fields
Ultimately, you want to avoid either of these extremes. To make the most of your cycling computer and not let it become a distraction, you need to think through how you arrange the different information fields on each screen to present the most pertinent information when — and only when — you need it.
Most of today's cycling computers make it very easy to customize what you see when you're riding. They typically allow you to set up each field to display the data points you want to see on each screen, then scroll through those screens as needed. Darryl uses a Garmin 1030, but the advice he offers here will work for many other cycling computer models.
In general, as you begin to set up your GPS screen fields, it's important to consider three best practices:
Consider what types of activities you typically do when cycling — and what screen fields you will need for those activities. If you regularly follow unfamiliar routes with predetermined turns or climb a lot, for instance, you'll likely want to see specific information while doing those activities. We'll cover this more in a moment when we look at how Coach Darryl lays out his screens.
Design a common screen layout. Instead of randomly placing information on each screen, set up one layout you can use for each one so you can more easily process information as you switch screens. Darryl, for example, has two large fields at the top of each screen, followed by two columns of three smaller fields side by side, for a total of eight fields on each screen.
Place identical, frequently referenced fields in the same spot on each screen. So, if you have heart rate on multiple screens, always put it in the same spot. Darryl has speed, heart rate and cadence in the same place on multiple screens, for example. Once again, it's about helping your brain process information as quickly as possible.
One additional thing to keep in mind is how much information you want in your ride time field. Typically, if you choose to make this a smaller field on the screen, you will only get minutes and seconds without any further detail. If you want more precision, you may need to make sure time is always designated to a larger field on the screen.
Field Arrangement Examples
Those tips may sound a little vague without any specific application, so we'll lay out how Darryl arranges his fields and GPS screens to make it a bit more concrete.
Coach Darryl's first screen is where he spends 60–80% of his time, and this is an all-purpose, general ride info screen. It has pertinent info like distance, time, time of day, speed and heart rate.
His second screen is customized for climbing. So, although it shares some fields with screen one (distance, speed, heart rate and cadence), it also has some of its own that are only relevant for climbing. These include information like grade, elevation, and total ascent and descent.
Darryl's third screen is designed for when he's following a predetermined, unfamiliar route, so it contains more navigational data like heading, distance to the next turn and ETA. His remaining screens have more random collections of data he's interested in at particular times, whether it's his shifter battery level or details about his pedaling power. He'll only flip to these a few times per ride, whereas he may flip to screen one or two many times throughout.
Keep in mind that this is just one example — and you can arrange your screens in whatever way best fits your riding habits. Remember — the overarching goal is to get the most out of your GPS without letting it be a distraction. 
Looking for more tips on using your cycling computer? Stay tuned next week for a follow-up post with additional advice from Coach Darryl.
Find more of Coach Darryl's tips on this and everything else related to cycling, check out his website.