How To Take Care of Your Cycling Equipment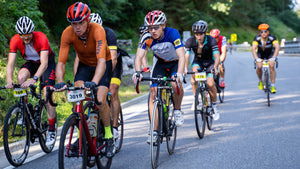 It may not be as sweat inducing a sport as running, but cycling can still leave you drenched. Despite having the wind to cool you down, a hot summer ride will inevitably bring out a sweat. 
When you get to the end of that ride and all your gear is soaked in sweat, you should be wondering what to do about it. Most cyclists don't give it much thought, and that's where they go wrong. 
If you don't consider how to care for your cycling equipment, you'll inevitably shorten its life. The buildup of sweat and grime will leave a stench, and the fabric will get stiff and deteriorate over time.
To avoid this situation, you need a plan for taking care of your bike gear after a ride. Lucky for you, Coach Darryl MacKenzie has honed his method over decades of coaching and riding.
Air Out Your Accessories
Care for your cycling equipment starts right when the ride ends. 
"The biggest mistake people make is that when the ride is over, they take off the gear they had on and put it right back in their cycling bag," says Coach Darryl.
One important tip for taking care of your cycling equipment is to be proactive. Instead of simply tossing everything back in the bag where bacteria and mildew can fester, start airing out some of your main accessories on your drive home. When he gets back to the car, Darryl immediately takes off the following cycling equipment and apparel:
Shoes:

Your cycling shoes

should go on the floor of your car and stay there to "air out the stinks," as Darryl puts it.
Gloves: These get drenched on a hot ride, and they will suffer most for lack of air-drying. Soggy gloves that sit in a bag quickly turn into crunchy, stiff

cycling

gloves that are no longer pliable and comfortable. Set these outside the bag as well.
Arm warmers/coolers: This light, quick-drying material can often last several rides if you air it out properly. Just don't put your

white arm coolers

on the floor of your car, or they'll be dingy for your next ride.
Heart-rate monitor strap: Other than your gloves, this accessory probably soaks up the most sweat. Be sure to take this off and toss it on the floor of the car.
Helmet: Your

bike

helmet dries fairly quickly and is more durable than the above accessories, but you should still give it time to air out.
All of these items can get a head start on air drying while you drive home. If you start and end your rides from your house, then this is even easier. You can set these items in the garage or a utility room at home.
Hang-Dry Your Cycling Clothes
Once you're back in the house, you need a plan for your main cycling clothes — your socks, shorts, jersey and jacket. You might be tempted to simply toss these items in the hamper and wait for laundry time. But this is a bad idea for two reasons. 
First, they need to air out like everything else. 
"It's surprising just how much sweat can stick to your jersey and shorts," says Darryl. If you toss these right in the hamper, you have the perfect recipe for a pungent blend of body odor. If you want your bedroom to smell like a locker room, then maybe that works for you. But even then, you're still cutting the life of your cycling clothes short.
Apart from the deterioration we already mentioned, there's the fact that running your clothes through the washer is hard on them. Every cycle reduces the quality of the fabric.
So, how often should you wash your cycling clothes? 
Darryl recommends a hamper that's designated for your cycling clothes — and plenty of sets of socks, shorts and jerseys on hand. That way, you can toss your aired-out gear in that hamper and only wash your cycling gear when you have a full load ready. That's much better than tossing your cycling clothes in the wash every time you're doing the laundry.
As a bonus, having those extra shorts and jerseys will ensure you don't rewear any dirty ones. Because bacteria can build up easily, Darryl never recommends wearing jerseys or shorts again without washing them, even after a short ride.
Do Your Wash
Now that you have your clothes hanging up and you've taken a nice, cool shower, you can assess what needs washing. Darryl often comes back to his car after a few hours to check everything over. 
Shoes can continue to air out, of course. Your heart-rate monitor, strap and helmet can go back in your bag, but these may need an occasional wipe down with a warm rag just to freshen them up and prevent sweat stains.
As for your gloves and arm warmers/coolers, you can assess whether they're ready for a wash or can be used again. The arm warmers can go in the wash with your other cycling laundry, but be sure wash the gloves separately from everything else and velcro them shut to prevent pilling of the fabric. 
"This process makes the equipment not only last longer but look a hell of a lot better and safer," says Coach Darryl.
Now you're ready to do any wash that's needed, and your gear is ready for its next ride. And you'll look like a pro when you get out there.
Look for more insights from Coach Darryl over at his website.
Do you need new gear?
Check out our touring bike saddles and vintage bike seats!
For more information on how to care of your cycling gear, reach out to your team of cycling experts at Selle Anatomica.
Image by Gerry_spm from Pixabay