Partner Profile: Velo Valets in Greenville, SC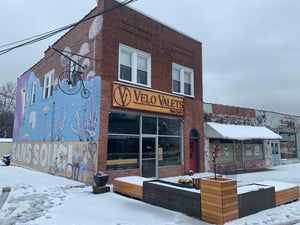 If you've spent any time cycling, you've probably experienced one of the best things about it: the community. On the local level and around the world, cyclists have a way of coming together. It's one of the most rewarding things about the sport.
One of the places that best exemplifies the connectivity of the cycling community is Velo Valets. Established just over five years ago in Greenville, South Carolina, Velo Valets has been a big supporter of Selle Anatomica since its earliest days. We love the VV business model, so we wanted to share a bit with you about the company and our long-standing partnership. 
A Neighborhood Niche
When Carlo Franco and Nate Evans set out to turn their cycling passion into a business in 2015, they knew they needed to come up with something unique. Greenville is a small town, and it already boasted a strong, year-round cycling community with more than 15 cycling shops supporting it. They chose to build a small, neighborhood-focused shop that would emphasize a community feel. 
"It's more of a family atmosphere with our customers," says Franco. "We know our customers by name. We ride with most of the people that come and go through the shop."
More than that, they built a service model focused on customization and tailoring their services to customers' needs. Their model took shape in two ways. First, there is their shop, where every bike is custom fit and custom built for each customer. In Greenville, where they serve everyone from the casual commuter to the hardcore cyclist that's Everesting for 20 hours straight, this model has been fruitful.
"We concentrate on the comfort of the customer," says Franco. "By building these bikes the way we do and selling them the way we do, we sit with the customer and figure out what they're actually looking for in a bike."
The two partners (the only employees of the business) also provide mobile bicycle repairs in the Greenville area—picking up bikes from their customers and delivering them right back after the job is done. This service has been especially popular with families who can't get all their kids' bikes to the shop easily.
Selective Partnerships
In all aspects of their work, whether custom builds or repairs, Franco and Evans choose their partnerships carefully. They realize that the products they use with their bikes are going to reflect on their business. 
That's why they only focus on six bicycle brands, and they pick and choose their accessories with caution. Velo Valets has even been known to turn down local companies if they don't live up to their high standards for quality and craftsmanship.
"If we can't ride it or we won't ride it, then we're not gonna sell it," says Franco.
That's why at Selle Anatomica we're especially proud to have Velo Valets feature our tensioned leather saddles as one of their custom-build options for the past five years.
Saturating the Market With Selle Anatomica Saddles
We first met Franco in 2015, at Interbike, where he picked up one of our saddles for the first time. He was initially impressed with the look of the saddle but also soon realized the unmatched comfort our process provides.
"As soon as I rode it, I opened up an account with her and ordered a batch of them," he recalls. 
They started selling our saddles to their customers, and they were soon a hot commodity in the Greenville cycling community. Many of them have been sold by word of mouth among their clientele, who Franco says are consistently impressed with how comfortable the saddle is from the first ride.
"We do get a lot of customers that were diehard Brooks folks that have switched to the Anatomica mostly because it fits right out of the box," he says. "It's comfortable, as opposed to a Brooks saddle, which—they're great once you put 1,000 miles into them."
Velo Valets has been a steady partner with us since that first order, so much so that Franco says he's starting to run out of new customers for our saddles. We're thrilled to hear it's been a mutually rewarding relationship. 
"I have never had one returned," says Franco. "And we guarantee them, because they're that good. And for most customers that buy them, it's not necessarily a cheap investment for a saddle. But they realize the quality of it and the fact that's made in America."
We're glad to know so many cyclists all the way across the U.S. from where we are in San Diego are riding comfortably on our tensioned leather saddles. We'll be happy to keep sending them over to the guys at Velo Valets for many years to come!
To see what Franco and Evans are up to, check out the company's website and social media pages: