Ride It Out: Cycling Together While Social Distancing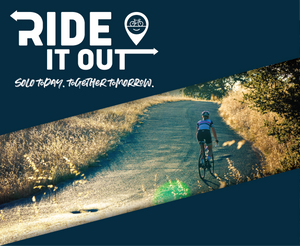 We're all feeling a little stir crazy these days. The coronavirus pandemic has disrupted every aspect of our lives and dislodged us from our normal routines. And we're all looking for ways to stay connected even while we're physically apart.
During these challenging times, many are turning to their bikes for relief. Novice cyclists and experienced riders alike are riding to ease their stress and stay healthy. People who haven't ridden in years are dusting off their bikes and hopping back in the saddle. All across America, people are coming together — virtually — to ride it out.
Thanks to our friends at People for Bikes, a new movement is underway that allows you to create a community around practicing safe cycling while social distancing. The Ride It Out campaign is an invitation, not only for you to get riding, but to inspire others to do the same. 
What Ride It Out Is
The Ride It Out campaign is an extension of People for Bikes' Ride Spot service, a route-sharing app that allows bike retailers and organizations to create and share bike routes and events with their customers to build cycling community. Any bike retailer or other organization can sign up as an affiliate with Ride Spot to create routes and special challenges and rewards programs to encourage customers to get riding.
During this time, when riding together isn't a safe choice, Ride Spot is an ideal tool to allow cycling together during social distancing even when riders aren't physically sharing the road at the same time.
The Ride Spot app creates a channel for cyclists to have some of the camaraderie they're missing right now. Even when you can't ride together, you can share photos along the route and engage your fellow riders on social media. It's a way to inspire others to stay active, ride safely and stay sane — and we could all use a little inspiration and motivation right now.
How to Ride It Out Together
Here's an example of how it works. A bike retailer in San Diego can join Ride Spot and start creating route challenges for its customers, even offering discount rewards for completing the routes. It can create route cards to give customers in store, promoting the app and its specific routes. 
Using the Ride Spot mobile app, the shop's customers can then load any of its routes on their phones and track their completion of the route using their smartphone GPS. They can also add images and use the app to share their experience on social media.
Right now, when many new riders might be hitting the road for the first time, affiliates can use Ride Spot not only to share routes but offer safe riding tips and pointers. Or they can share fun ideas for those families trying to start a new habit of cycling together. It takes the conversations that might normally happen in the bike shop and moves them online where they can gain even more traction.
Solo Today, Together Tomorrow
The cycling community is always a source of strength and inspiration — now more than ever. Whether you're a bike retailer, an avid cyclist or a newbie, you can weather this storm by riding it out. 
Download the Ride Spot app today and ask your favorite retailers if they are already sharing routes. If not, tell them about Ride It Out and see if they'll consider joining. 
At Selle Anatomica, we're committed to helping you stay in the saddle, no matter how crazy the circumstances. Group events may be postponed, but that can't keep us off the road. We'll get through this together.
Ride it out with us.