The Pros and Cons of Different Bike Cleats and Pedals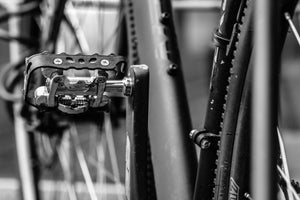 Which Bike Cleats and Pedals Are Right for You?
Any serious cyclist would tell you that their cleats and pedals are critical components of their cycling setup. For today's cyclists, modern "clipless" pedals have made it possible to get pedaling much more quickly and efficiently.
Despite their importance, few cyclists have given their specific pedals of choice much thought.
"It's surprisingly infrequent that people switch from one variety of pedals to another," says longtime cycling Coach Darryl MacKenzie. "This is largely because they have little knowledge of the advantages and disadvantages of each."
In fact, the different types of bike pedals and cleats have distinct features that should appeal to different types of cyclists. Which one you choose can make a big difference in your cycling journey. The cycling experts at Selle Anatomica explain the pros and cons of different cleats and pedals. Read on to learn which type of bike pedal is right for you.
What Are 'Clipless' Bike Pedals?
Before we dig into specific types, let's clear up a potentially confusing term. The phrase "clipless pedals" is a strange one, given that you are actually clipping your cleats in and out of the pedals. 
Clipless Pedals Explained
This term is based on the fact that these pedals are a departure from the original pro cycling pedal, which had a strap — or toe clip — around the front part of the pedal that you could "clip" into. Unlike those pedals, clipless pedals have no extra straps extending from them. You fasten a cleat to the bottom of your shoe, and the cleat attaches to the clip on the bike.
These modern pedals, which have been around for roughly half a century, make it much easier to click your shoe right in and out of your pedal. But they're not all the same. Coach Darryl usually sees one of three types of clipless pedals, and we'll look at them each in turn.
SPD Clipless Pedals
These are the classic clipless pedals, and most cyclists are familiar with them. They're designed by Shimano, and the SPD stands for Shimano Pedaling Dynamics. They're extremely popular among mountain bikers, but many road cyclists use them, too. They're flat and wide, sort of football-shaped, with a clip at the front center of the pedal.
There are several pros and cons of different cleats and pedals. 
Advantages
SPD pedals have several benefits:
You can clip in on either side of the pedal. This makes it easy to clip in quickly because you don't have to make sure the pedal is facing the right way.
The shoes are flexible. They bend at the ball of the foot, making them easier to walk in when you get off the bike. This makes them great for extended cycling tours, where you spend a lot of time on your feet.
You rarely need replacement parts for these, as they're usually made from brass, which seldom breaks.
They're great for mountain biking because of the flexible shoes.

Cycling SPD pedals

are the cheapest of the three main options.
Disadvantages
These benefits come with some notable downsides, however: 
There is a small footprint for the cleat that attaches to your shoe. This puts more pressure on one specific part of your foot and causes discomfort on long rides with uninterrupted pedaling.
The flexible shoes exacerbate this discomfort. Unlike the firmer shoes for other pedals, which spread out the pressure across your sole, these focus it right where your foot meets the pedal.
They're less efficient. Again, the flexible shoe causes issues. Some of your pedaling power is dissipated. This can slow you down and tire you out.
The Bottom Line on SPD Pedals
SPD pedals are great for mountain bikers and road riders that aren't pedaling as far in a single go. They work well for bike tours, also, thanks to frequent stops to rest your feet. They fall short for the serious distance cyclist, though.
The Look Variety of Clipless Pedals
These were some of the original clipless pedals, designed by a company — Look — that created clips for ski bindings and applied that knowledge to bike pedal technology. Many others have since created pedals in the same style. Both the cycling pedals and cleats are triangular — wide at the back of the foot and narrower toward the toe.
Advantages
The pros of Look pedals include:
Replacement parts are easy to find and inexpensive. Because the original patent expired and so many companies make these, it's easy to find what you need.
It's rare to have problems with the pedal part, which is strong and sturdy.
The shoes are stiff from heel to toe, optimizing power transfer to the pedal and minimizing discomfort at the point of contact between foot and pedal.

Look cycling pedals

are relatively inexpensive, though a bit pricier than SPD pedals.
Disadvantages
As for cons, there are a few to consider:
Because there are so many manufacturers, parts are not necessarily interchangeable.
You can only clip in on one side of the pedal. This is the biggest disadvantage and means there is a three-step process to clip in. Coach Darryl frequently notices that riders with these pedals are the slowest to get going after a stop.
The cleat component will wear down easily. It's made of plastic and known to break. Darryl almost fell off the bike once when his broke off his shoe mid-stroke.
The firm shoes have a cleat with no padding (unlike the Speedplay, which we'll look at next). This makes them noisy and liable to slip when you're walking.
The Bottom Line on Look Pedals
Because they're set up for distance but inexpensive, these pedals are ideal for the entry-level cyclist. They're also great if you ride in areas without a lot of stopping, since the lag in clipping back in is less of an issue there. If you ride in busy areas with a lot of traffic lights, though, you'll quickly tire of the Look variety.
Speedplay Clipless Pedals
These are the newest of the three varieties we're looking at. They were developed in San Diego, where Darryl lives, in the early 1990s. These small, disc-shaped pedals are immensely popular among professional cyclists, so much so that many of the cycling teams at major events like the Tour de France use them.
Advantages
Speedplay pedals have some significant advantages:
You can clip in on both sides. Like the SPD pedals, they're incredibly easy to clip into quickly.
The stiff shoes have cleats that are equipped with walkable rubber covers. This gives them a big advantage over the Look variety, as you can walk into a coffee shop quietly and not risk slipping on the floor.
The shoes are incredibly light. "When I switched over to these, on the first ride it felt like I had no shoes on," says Darryl.
Many cyclists consider the pedals the most attractive on the bike.
Disadvantages
Like the others, Speedplay pedals do have some downsides:
The company was bought out in 2019. It then moved all of its manufacturing overseas and dropped its formerly stellar product support. It may be too early to tell just what the impact will be, but as Darryl puts it, "the future is murky."
There have typically been several models of Speedplay pedals, and they're not cross-compatible. Recent changes may be improving this, but it's too early to tell with new releases on the market.
The Zero model is particularly difficult for clipping in, and Darryl doesn't recommend it for people under 160 pounds.
They're easily the most expensive of the three options.
The Bottom Line on Speedplay Pedals
Speedplays are great road pedals. They're convenient and easy to use, and they work well for distance rides or extended tours. They make the ideal choice for an experienced cyclist who puts a high premium on having the best equipment. However, they are the most expensive choice, and recent changes to the company raise some questions. 
Which Pedal Is Right for You?
As you can see, there's no one right pedal for every cyclist. Each has its pros and cons, and the choice largely comes down to your cycling preferences and your pocketbook. For what it's worth, Coach Darryl notes that the few cyclists who do make changes usually move down this list in order. And those who end up with Speedplays rarely switch back.
What's your pedal and cleat of choice? Let us know in the comments below.
To learn more about the pros and cons of different cleats and pedals, contact our team. 
Here at Selle Anatomica, we want to ensure every ride is enjoyable and your best one yet. One of our secrets to success is our leather bike saddles. Explore our website today!
Look for more insights from Coach Darryl over at his website.
Image by Photorama from Pixabay