Training Series: How To Train for a Century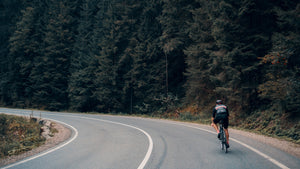 The century. If you get serious about cycling, it's bound to come up at some point. Can you do it? What does it take? What do you need to know when learning how to train for a century?
"The century is the iconic goal for most cyclists," says longtime cycling coach Darryl MacKenzie. "It is to the cyclist what the marathon is to the runner. It's like a rite of passage." 
Darryl himself had ridden about 200 of them over his 35 years on the bike. He's also trained countless other cyclists to ride them. And there's one key thing he's learned doing it.
"It's definitely not something where you can say on a Tuesday, 'Yeah, I think I'll do a century this coming weekend,'" he says. "You've gotta prepare for it and set yourself up for success."
So what does training for a century ride look like? Any serious cyclist will tell you that it takes drive and discipline. We talked to Coach Darryl and put together this step-by-step guide on how to train for a century. 
1. Choose Your Century Wisely 
When you're learning how to train for a century bike ride and preparing for the big day, something to keep in mind is how crucial it is to choose the right one so that you have a good experience.
"Don't just pick the most popular ones other cyclists talk about," says Coach Darryl. 
Other cyclists with experience riding centuries may be looking for something completely different than what you need, especially if it's your first one. And, as Darryl notes, what's most important for you as a newbie is flatness. For that first long ride like this, you don't want to force yourself to tackle too many hills. Look at a topographical map of the ride and any information about the number of feet of climbing. Anything averaging less than 35 feet of climbing per mile is an easy ride. 
2. Examine the Route Carefully 
That topographical map and route information can go a long way to help you prepare for your century before you ever get on the bike. Maybe it's not your first one, but you want to tackle a harder route this time. Use this as your guide to determine just how difficult the ride is and what you can realistically prepare for:
Easy ride: Less than 35 feet of climbing per mile
Medium: 35–50 feet per mile
Hard: 50–70 feet per mile
Very hard: 70–100 feet per mile
Hardcore: More than 100 feet per mile
Knowing those details will help you to "train with the end in mind," as Coach Darryl puts it. The harder the route, the more you need to incorporate climbing into your century ride training plan.
3. Decrease Your Intensity 
If you're used to intense, short rides, you can't approach the century in the same way. You need to pace yourself and lower your heart rate to sustain your pedaling for much longer.
"In general, the higher the heart rate, the fewer miles you can go," says Darryl.  
As you train for your century, focus on dropping your heart rate and extending your mileage. You're not going to sustain a 150 bpm heart rate for seven hours on the bike. 
4. Build Your Miles Gradually on Weekends 
Weekends — either a Saturday or Sunday — are your big training opportunities when you're training for a century ride. When you begin your training, you'll usually need at least six weekends to build up to your end goal. Over those six weekends, you'll want to gradually add miles. Aim for something like this:
Weekend 1: 25 miles
Weekend 2: 40 miles
Weekend 3: 55 miles
Weekend 4: 70 miles
Weekend 5: 85 miles (make sure this is two weeks before the big event, and don't go the full 100 miles)
Weekend 6: 60–65 miles (this is a shorter recovery ride the weekend before your century)
Building your stamina when you're learning how to train for a century bike ride takes time, so don't rush this process. Also, for that recovery ride, make sure you do it at the same time that you'll head out on your century the following weekend. You might be hitting the pavement at 4 a.m., so this is your chance to prepare for that rude awakening.
5. Add Speed on Weekdays
 In between your weekend rides, you do not want to do more long rides. Your body needs some recovery time and training variety in between, and those weekday rides are your opportunity to build intensity.
Make these rides short and fast. Aim for a high heart rate — about 10-15 bpm higher than your heart rate on weekend rides — and look to build your anaerobic capacity with short bursts of speed. This will serve you well when it comes time to do the full 100 miles.
6. Plan Your Ride Time 
As you start to extend your miles when you're training for a century ride, you'll get a feel for your ideal pace. Once you have that, look ahead to the big day so you can get an idea of how long you'll be riding. 
For instance, if you find you're settling in at around 12 miles per hour, you can expect to be on the bike for about 8.5 hours. At 13 miles an hour, it'll be just shy of 8 hours. Expect that every mile per hour your speed increases, you'll shave about 30 minutes off your ride rime.
7. Be Prepared for Any Temperature
To some degree, this depends on where you are and the time of year. But, wherever you are, you're probably going to start in the dark and end sometime in the afternoon. In some cases, you could start in 40-degree temperatures and end in the 80s. 
"You've gotta be prepared for every temperature and be able to carry your stuff," Coach Darryl advises.
8. Prep Your Bike 10 Days Ahead of the Ride
When you're constructing your century ride training plan, always remember to expect the unexpected. To avoid unwanted surprises, it's a good idea to prepare your bike days in advance. Midweek on the week before ride week — so about 10 days ahead of time — you need to get your bike ready. Take it to a mechanic for a checkup and get any fixes you need for a long ride, whether it's a new chain, a shifter tune-up, or anything else. 
One thing is especially important when you're tuning up: Put two new tires on the bike, no matter how old the other ones are. New tires are less worn and ride faster, and you can always save your semi-worn tires for later. 
Why do this 10 days ahead and not right before the ride? Because you want that one last weekend ride to test everything out and make sure it's all working right. 
9 Sleep Well 2 Nights Before the Ride
You may be surprised to learn this one: The most important night for good rest is not the night before the ride, but two nights before. So, if your century is on a Saturday, plan for a long, solid night's sleep on Thursday night. You probably won't get much rest the next night when you have to get up early to get to the starting point, so focus on a great night's sleep the night before that.
10. Eat Frequently While You Ride 
This is actually a tip for ride day. Plan to eat frequently while you're riding and focus on carbohydrates. You don't need protein and fats right now — it's all carbs, all day. There should be rest stops every 12 to 15 miles, and they'll typically provide carb-heavy food for cyclists there. 
If you really want extra credit for your ride prep, you can look to see if the ride organizers advertise the food they'll provide on the ride. If so, you can incorporate those are foods into your training days to help your body adjust and prepare. 
11. Share Your Pulling 
If you're not pedaling alone, you'll be riding in a paceline with others. In the paceline, the rider at the front works much harder than everyone behind them. They absorb all the wind and drag for the other cyclists, and that's why everyone should rotate and take turns at the front.
That being said, all riders aren't equally strong and able to pull out front, so some will spend more time leading than others. On the ride, be sure you're sharing your pulling and not spending too much or too little time out front.
12. Celebrate After You Cross the Finish Line
When you make it across the finish line, take a deep breath and realize what you just accomplished: 100 miles! That's something to be proud of.
To celebrate, eat whatever you want. Pile on those calories in whatever form sounds good. Your body will tell you what it needs, even if it's a huge serving of ice cream. Don't worry about it. You've earned it.
Look for more insights from Coach Darryl over at his website.
Photo by Viktor Bystrov on Unsplash