Your Guide to Group Cycling Etiquette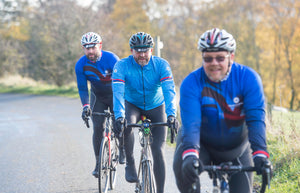 At some point in their cycling career, every cyclist has to learn how to ride in a group. If you start out riding solo, you may learn to take a few things for granted — things that won't work for you on a group ride.
Our owner at Selle Anatomica, Carol Hosmer, has been on many group rides over the years, and she's seen quite a few riders join in without understanding how to do it well. Sometimes, it's just irritating, but it can be downright dangerous. That's why we reached out to our friend and longtime cycling mentor, Darryl MacKenzie, for some guidance on group cycling etiquette. 
Every cyclist should understand the difference between riding alone and pedaling with others — and know the best practices for riding safely in a group.
The Difference Between Solo and Group Cycling 
"Cycling solo is quite different from cycling with others," Coach Darryl explains. "When cycling alone, you are independent and relatively free to do whatever you want on your bike. No other cyclist can be affected by your actions."
This is completely different from riding with others. 
"When you're riding with a group, you're riding like a team," says Darryl. "You have to look out for the welfare of the others in the group. You don't want to put them in danger by not pointing out a pothole, a turn, a car or something like that."
In other words, everyone in the group has to consider the interests and safety of the entire group. This demands a different level of attention and awareness than simply pedaling alone. If you don't increase your focus, you'll quickly gain a reputation as a "squirrelly" rider who can't be trusted. 
If that happens, you'll be riding alone, whether you want to or not.
Etiquette for Riding in Front
When you are riding in front, you're the "eyes and ears" of the entire group. To a degree, you're responsible for every cyclist's welfare, and it's a responsibility you shouldn't take lightly. 
From the front, you should give special attention to the following:
Road hazards: Your gaze should always be ahead, watching for potholes, obstacles and any other hazards. When you see them, Darryl notes that you should "make it an almost non-event" and gradually steer the group around them. Don't wait until you are almost at the hazard and then make sudden movements that could catch other riders off guard.
Approaching turns: When a turn or intersection is coming, you need to announce it well in advance so the whole group is ready. Darryl knows two occasions where one rider knew of a turn the other rider did not. When the first rider turned into the second, both riders ended on the ground, and both incidents resulted in a fatality.
Slowing and stopping: Again, gradual change is the goal. If you need to slow down or stop, don't do it suddenly. Announce it to the group and steadily decrease speed to avoid any risk of cyclists colliding with each other.
Deciding when it's safe to switch up the formation: If the group wants to move from a one-up formation to a two-up formation with two lines of riders, it's the front rider's job to decide whether it's safe to do so. Is the road wide enough? Will the traffic situation safely allow it? 
When you're shouting instructions to the group, keep in mind that simple, direct notifications are best. Keep it to two words describing what and where — for example, "Rider up!" or "Car back!" 
Etiquette for When You're Not Riding in Front 
Avoiding the front position in the group doesn't absolve you of responsibility. Whether you're in the middle or the back, you still have to ride alertly and keep the group's safety in mind. Focus on the following:
Don't stare at the cyclist in front of you: Even though your view is partially impeded, you should still focus on the road ahead. Don't get "road hypnotized" by staring at the wheel in front of you, or you won't be ready to react quickly when needed. Keep slightly to the side of the cyclist in front of you so you have a clear view.
Never overlap wheels with the rider in front: Give adequate space to the rider in front of you. If your wheels are too close when they brake or swerve, you're virtually guaranteed to go down.
Pass safely: When you pass other riders, be sure to warn them. And never pass on the right — always stick to the left.
Don't slam on your brakes or make sudden movements: This one is true everywhere but the back of the group — gradual changes in speed or direction are always best. 
Regardless of your position, you should always be prepared to give alerts. Even though alerts are primarily the job of the group leader, that doesn't mean other riders shouldn't shout simple "when and where" instructions when they see a hazard.
Put Safety First, No Matter Your Position 
A final word of warning is in order for anyone who wants to ride in a group, no matter what position you take in line.
Because the social experience of cycling is one of its primary draws, conversation is a common part of group riding. And that's great — as long as it doesn't endanger the group. You must be able to maintain focus on the road, react quickly, and shout instructions when necessary. If conversation prevents you from doing this, then group riding may not work for you.
"Some riders can't manage these interactions," says Darryl. "On the rare occasion, I have told cyclists that they would be better off riding alone, for the safety of themselves and others."
Solo riding may not be your ideal, but it's important to know your limits and put other riders first. If you can stay alert, though, then by all means, get out there with the group and enjoy your ride! 
Pacelines present more specific challenges for riding in a group. For more tips on riding in a paceline, check out our post on the topic.
As always, you can find more of Coach Darryl's tips and insights at his website.
Photo by Fat Lads on Unsplash