4 Essential Pieces of Cycling Technology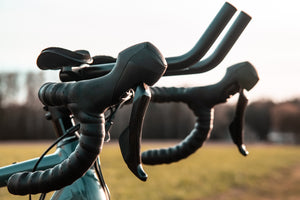 Very few aspects of our lives haven't been altered by technology in the last few decades. We now have devices for nearly everything, and they add convenience and control at every turn. From your thermostat to your smartwatch, there's a simple, yet high-tech solution for your life. 
Cycling is no different. Tech has transformed the way we ride. Cyclists now have so much information and so many ride-enhancing devices at their fingertips. Even cycling clothes are high tech these days.
So, if you had to choose some essential cycling tech, what would it be? Coach Darryl MacKenzie has been in the game for more than 35 years, so he's tried out a lot of new things over that time. For him, it comes down to these top four pieces of cycling tech.
4. Cycling Computer 
For most cyclists, a Garmin or similar cycling computer is just a given nowadays. We've covered them extensively, from how you set up your screen to general tips for making the most of them.
They're still worth mentioning here because they've become the central hub of cycling tech.
"These aren't on the bleeding edge of technology anymore," Darryl explains. "But they're the Swiss Army Knife of cycling aids."
Your handlebar computer unlocks all the information you need for effective training. Speed, heart rate, cadence, time, elevation, total climbing and descent, calories burned, battery levels, power metrics — it's all there, and it all helps you train like a pro.
3. Radar-Equipped Tail Light
Many cyclists are used to riding with a flashing red tail light. But newer light technology can help you take your safety to another level. 
The radar-equipped Garmin Varia is bright enough for drivers to see you from far behind, offering 220-degree visibility even in daylight. But it does much more than provide a visual alert for drivers. It alerts you, the cyclist, as cars approach. When a car gets within 153 yards of your tail, you'll hear an audible beep. Plus, if you integrate it with your Garmin computer, you'll even get an alert on your screen.  
This piece of cycling tech is especially useful if you frequently pedal long routes on country roads. Traffic may be scarce in this kind of riding, but when it comes, it comes fast. 
2. Electronic Shifters
Electronic shifters might seem like an obvious choice, but a lot of cyclists overlook them. 
"Many cyclists do not recognize the value and pleasure of using electronic shifters until they try them," says Darryl. "They think that they only operate like a car's automatic transmission — shifting automatically as you ride."
But Darryl only knows two riders who use that function. And a lot of cyclists simply skip the electronics because they're not interested in riding that way. In reality, electronic shifters do so much more. 
Most importantly, electronic shifters help you avoid problems like cross-chaining or dropping your chain. You can even set them to automatically adjust the opposite shifter each time you shift (e.g., counter-shift twice in the back when you shift once in the front). This extends the life of your chain and prevents those awkward mid-ride moments when you suddenly find yourself freely spinning your pedals. 
Electronic shifters also prove quite helpful if you have naturally small hands or you develop arthritis, as the push-buttons are much easier to shift than traditional shift levers. 
1. Power Meters 
Once again, this isn't brand-new technology. But what power meters provide is essential for the modern cyclist. 
"A power meter is the ultimate training companion," says Coach Darryl.
Unlike heart rate monitors, power meters provide immediate feedback. You can know exactly how much power you're using to pedal right that moment, and this gives you important clues as to how you're using your energy and what you can accomplish. 
This information is invaluable both during and after your ride. With the data you collect, you can analyze your average power over specific intervals. This helps you develop a training plan, whether you want to improve your sprints or extend your distance rides. Darryl regularly looks at this data to understand how hard he can pedal on his rides. Recently, he even used it to determine if he could catch up to a group of riders, knowing exactly how hard he could pedal for 20 minutes. 
It's also helpful for recovery after an injury or any extended time off the bike. For instance, after a recent setback, Darryl could easily see that there was a significant difference between the power each of his legs could provide. Rather than trying to guess when he was back up to speed, he monitored his power meter over the next few months to see when his weaker leg had caught up to the stronger one.
Ultimately, as Darryl says, "it's the only way to train."
Enjoy Your High-Tech Rides 
These four pieces of cycling tech will enhance your rides immeasurably, but there's one more thing to note if you want to make the most of them:
Don't forget to charge up!
This high-tech cycling gear is all battery powered. If you forget to charge up, you'll miss out on all the information and safety enhancements you could have gained. Follow a good charging routine after your rides to ensure your equipment is always ready for the next outing.
It may not be a computerized device, but the Selle Anatomica saddle is no less high tech. Our patented process enhances your cycling comfort so you can ride longer and farther. Check out our full lineup here.
Find more of Coach Darryl's tips and insights at his website.
Image by TheArkow from Pixabay