5 Advanced Mountain Bike Trails Around the World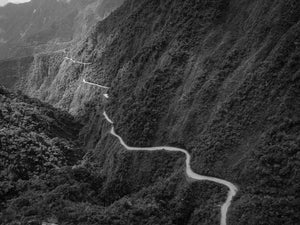 There's nothing quite like seeing the world from a mountain bike. If you're hardwired for it, the thrill of adventure, the rush of fear, or the test of endurance (or all three) will always beckon you to the trail. Let us be your travel guide; read on to find out more about five advanced mountain bike trails around the world.
For free spirit Martijn Doolaard, it was the thirst to explore that drew him toward his journeys — from Amsterdam to Singapore and Vancouver to Patagonia — by mountain bike.
"I wanted to see the world," Doolaard says. "I think the bike is a good way to really immerse in it, to just see every detail, to see landscapes slowly change very gradually."
His journey took him to some of the most advanced mountain bike trails in the world. We thought we'd share a couple of his favorites, along with some other top challenges recommended by mountain bikers everywhere. If you're hungry for a new view of the world or just in need of a new challenge to conquer, we've got some great recommendations for you.
Ready for a cycling adventure?
Grab our new rugged, waterproof R2 saddle and get ready for an adventure through some of the world's most spectacular MTB trails for advanced riders.
5 Advanced Trails for Your Mountain Biking Bucket List
Cotopaxi, Ecuador
REI named Ecuador "South America's Mountain Biking Mecca," and for good reason. The Trans-Ecuador MTB Route crosses the country from north to south and connects many of its great destinations via rugged dirt roads.
Along the way, you'll find Volcán Cotopaxi, a wild, unpredictable ride that might involve some slippery slides along with grassy and rocky passes. It's a little bit of everything — ash, boulders, sand, and petrified lava — a mix of difficult workouts and steep descents. Some have compared it to snowbiking. If you're looking for advanced mountain bike trails, The Trans-Ecuador MTB Route is a trail you won't soon forget.
It was one of the more challenging passes in Doolaard's journey through the Americas, but one of the most memorable.
"You're so vulnerable, you get to give yourself to the elements and nature," he wrote. "The tougher it was, the better the memory." 
The Old Ghost Road, New Zealand
Be sure to gear up for a long stay along this old gold-mining trail. The 53-mile ride along this advanced mountain bike trail will take you through rainforest and push you above tree lines for amazing views of Middle Earth… er, New Zealand. This is backcountry riding, and you'll want to savor it.
Camp along the route at Ghost Lake and catch the first sunrise at the eastern edge of the world, then tackle the steep descent with some sneaky switchbacks. There's a pub waiting for you in the little mining town at trail's end, so don't give up.
Cliffs of Moher, Ireland
Now here's a trail of terrifying beauty. The Cliffs of Moher are one of the top travel destinations in the world. But taking them in by bike is an entirely different experience. This is only for the most irrational thrill-seekers among us.
At some points, the trail is a mere four inches wide, and the wind is in no short supply. One strong gust could send you plunging 600 feet into the Atlantic. Few bikers have tried it since Hans Rey and Steve Peat in 2006. If you've really got a thing for danger, maybe you could be next?
This advanced MTB trail will challenge your focus and balance, and reward with stunning views.
The Whole Enchilada, Moab, Utah 
If you're looking for a technical challenge, this is the route for you. It actually covers several trails, including Burro Pass, Hazard County and Porcupine Rim, for a total of 34 miles. You'll climb to 14,000 feet and then tackle an untamed downhill that will take you through forests, Aspen lands, creeks and prairies.
You'll ride slippery single track that will keep you on edge, slide along sheer cliffs, and end up in the sandstone canyon by the Colorado River. Moab is one of America's national park gems, and The Whole Enchilada is the best way to take it in. 
The Death Road (Yungas Road), La Paz, Bolivia
This is the true thrill-seeker's trail. Often named the world's most dangerous road, this trail sends 200-300 people to their deaths every year and has killed at least 18 cyclists since 1998.
It's not for a beginner, and not for the faint of heart.
In Doolaard's opinion, though, the title is a bit overrated. But if you're looking for a top challenge, this is a great one. You'll drop from 15,500 feet to 3,600 feet on your descent, traveling 40 miles of dirt road along the way. Steep descents and hairpin turns will keep your pulse up, but you'll want to be sure not to miss the views.
"As you descend you feel the air become more moist and the scents of the flower arise," Doolaard wrote about Yungas Road. "I forgot how sweet it is — the smell of life, butterflies that surround me in an abundance of sounds, colours and growth. You feel the power of nature."
To Your Next Journey 
Whichever advanced mountain bike trail you choose, give yourself to the journey. Make sure you're well equipped with a Selle Anatomica leather bicycle saddle and remember Doolaard's advice:
"The most beautiful roads are never the freeway, they're always the smaller roads going into the mountains, going high up, deep in canyons. In the long run, it's very slow, but it's very rewarding as well."
For additional information about the best mountain bike trails in the world, get in touch with our team.
Enjoy the ride.