8 Reasons a Cyclist Experiences Cycling Fatigue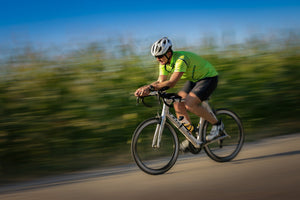 Experienced cyclists know how to push themselves to the limit. They can often ride 50, 100, or even 200 miles without getting too tired. 
That makes it all the more confusing and disorienting for a seasoned rider if they unexpectedly run out of energy in the middle of one of their normal rides. When such an occurrence happens, the sensation can feel completely inexplicable and random. 
Rest assured, if this happens to you, there is a reason you're running out of gas. The answer could be one of eight things, and longtime cycling coach Darryl MacKenzie is pretty good at helping riders get to the bottom of their cycling fatigue.
8 Questions To Figure Out Where Your Energy Went
To help you suss out what's draining your tank, we're going to look at something that happened on one of Coach Darryl's rides back in 2014. About halfway through this three-hour Saturday ride, he noticed a rider lagging behind, so he pulled back to see if everything was OK.
"I just don't have any energy," she said. "I can't keep up." 
This was unusual for an experienced rider on a fairly easy ride like this, so Darryl knew something was amiss. They pulled over to the side of the road to take a break, and he decided to walk through eight important questions to see if he could find out what was causing this mid-ride malaise.
The questions he asked her will help you find the cause of cycling energy loss if you end up in the same situation—or, better yet, help you avoid it in the first place. (And, if you stick around until the end, we have a little surprise about who this tired rider was.)
1. Have you recently moved to a protein diet?
 "This is by far the most common reason cyclists run out of energy," says Coach Darryl. "Protein is wonderful for repairing muscles, and therefore it's great to eat on Sunday night after two days of riding. But the only energy source we have is carbohydrates." 
If you're short on carbs, you're going to hit a wall about 90 minutes into your ride. Such a huge energy drop is relatively common for cyclists who have a heightened focus on consuming protein — at the expense of carbohydrates, that is. This can even lead to bonking, a dangerous drop in mental function stemming from a major lack of carbs. 
2. Do you feel ill in any way? 
Any sort of illness or infection can sap you of your stamina — and result in tired cycling. Of course, these days, we're all hyper-attuned to these signs after two years of worrying about COVID-19. But, it's worth an extra health check-in before or during a ride if you feel any signs of respiratory illness or fatigue.
3. Do you have a brake that's dragging or any other equipment issues?
Even minor issues with your bike can cause problems with your ride. For instance, if your wheel isn't seated correctly in the dropouts, your brake will rub against your wheel. Even a slight drag can make you work much harder — and run out of gas much sooner than usual. Look out for this or other issues to ensure your bike is ready to ride resistance-free.
4. Are you sleeping well?
How do you not get tired while cycling? Get enough sleep, for starters. Yet, "most people don't know about the critical night of sleep that is most important before a ride," says Darryl.
What does he mean by that? To illustrate, for a Saturday ride, most riders would think Friday night is the most important night for good rest. But that's not true — it's actually Thursday night that matters most. In other words, make sure you get a full night's rest two nights before a big ride. 
5. What did you have for breakfast?
No matter how much you're in a hurry before a ride, you should never skip breakfast. This meal is critical for your stamina and to avoid immense fatigue after cycling. 
 Don't just eat whatever is in the pantry, though. For a pre-cycling breakfast, you need plenty of carbohydrates to fuel up for those hours on the bike.
6. What's in your water bottle?
Those breakfast carbs aren't the only ones that matter. You need a good source of carbs for refueling while on the ride, too. That's why, for any ride over 90 minutes, you should always have energy drinks in your water bottles. 
Water alone won't do the trick. You'll need to drink plenty of H2O to stay well hydrated in the days leading up to the ride. But on the road, you need those carb-heavy sports drinks to help overcome cycling fatigue.
7. Have you vomited recently?
This is obviously related to the question of whether you feel ill, but it could be broader than that. If you threw up for any reason in the last 24 hours or so, this could throw off the natural flow of carbs through your body. Don't try to ride if that's the case! 
8. What did you eat yesterday?
Speaking of interrupting the flow of carbs, consider what you eat the day before the ride. If you skip a meal or short yourself on carbohydrates on that critical day leading up to the event, you'll likely find you don't have enough in the tank. In fact, this type of cycling energy loss was the problem for the rider to whom Coach Darryl was talking. She hadn't eaten dinner the night before. 
A Life-Changing Ride
Without that meal the night before the ride, she was destined to run out of energy, and she wasn't going to be able to recover it quickly. She would have to take it easy the rest of the way. But there's still some good that came out of this unfortunate situation. 
You see, that rider was our owner, Carol Milton Hosmer, who took over the company after her brother, Selle Anatomica founder Tom Milton, died in 2010. The ride we've been talking about was the first time Darryl and Carol rode together.
Soon after, Darryl started consulting for Selle Anatomica, helping us expand our product lines and genuinely connect with more of the cycling community. In recent years, that's turned into him offering his insights for us to share with you here on our blog.
And it all started with that simple encounter eight years ago. 
"Sometimes a seemingly minor encounter can alter the course of people's lives," Darryl says, reflecting on that meeting. That's why we love being a part of the cycling community and bringing these tips to you each week. We hope these insights find their way to you exactly when you need them. 
Now, go make sure you're all fueled up and ready to go for your next ride. You never quite know what — or who — you might find out there.
Look for more insights from Coach Darryl over at his website.
Image by Daniela Jakob from Pixabay