SA in the French Alps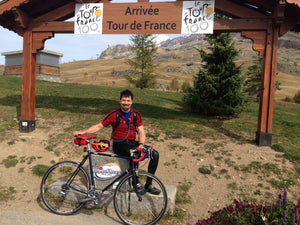 Doing my best to spread the word about your saddles - in this case, in the French Alps. 
I dare say mine was the only one I saw, in three days of cycling from Bourg D'Oisans, including the Col du Glandon & the Col de la Croix de Fer, and 2 times up Alpe d'Huez, Then again, I also did not see a single other rider on a steel bike. And my buddy on his carbon fiber rental bike complained that his butt hurt. 
Cheers,
Michael