Bike Maintenance: How To Ensure You're Ready for Every Ride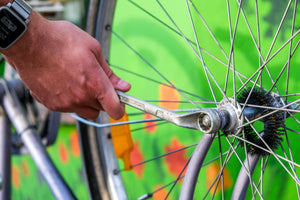 As a cyclist, you put in a lot of work before and during your rides. You spend loads of energy and burn countless calories pedaling those endless miles. 
But you're not the only one working hard when you pedal. Your bike is a tireless workhorse, too. And, just as you need to make sure you're physically ready for every ride, you've also got to be sure your bike is road-ready for whatever may come. 
Unfortunately, many cyclists neglect the important job of bike cleaning and maintenance. Over his decades as a cyclist and cycling coach, Darryl MacKenzie has seen far too many riders show up to rides with bikes that weren't ridable.
Skipping those important, routine check-ins and essential maintenance tasks can cause problems for your bike — and even turn disastrous on a ride. It's never a good idea. Here's how to make bicycle maintenance an indispensable part of your regular cycling routine. 
3 Key Moments for Maintaining Your Bike 
Coach Darryl saw how important this routine was before one particular ride with one of his cycling groups. One of the other riders was standing at the starting point, completely unaware, when the cyclist behind him called out, "Hey, do you know you have a big cut in your tire?" 
This rider stopped to examine his bike, and he quickly realized his tire was in no condition to finish the ride. Thankfully, he discovered the issue before his tube blew out and caused further problems. 
He could have discovered the issue sooner, though, if he'd followed an important routine leading up to his ride. Here are three key bike maintenance moments every cyclist should never miss.
After the Ride
Keeping your bike in shape isn't something that happens on its own. In order to maintain your bike, you need to start right after you finish every single ride.
"If you don't give your bike a thought from the time you get off it for one ride until it's time to get back on it for the next ride, then you are risking problems," says Darryl. "You're just hoping there's no reason why your bike is not going to be safe or ready for your next ride."
Those few minutes after you get home from a ride are your chance to take stock of any noticeable issues that you'll address in the days ahead. You may have already noticed squeaky pedals or stiff shifters during the ride. Make note of those bike maintenance issues now to focus on later.
Then, as you're looking your bike over, log any other operational problems. Do the derailleurs, cables, brakes and shifters all look OK? Do any bolts need tightening? Are there any signs of frame damage? Run your fingers north-south and east-west over any minor cuts in the tires — if you feel a click there, it's probably time for a tire change. For the most part, you'll just make note of these assorted issues for you (or a mechanic) to address before your next ride. 
Finally, before you turn your attention to getting out of your cycling kit, be sure you put any batteries on their chargers. Your cycling computer, lights and shifters all have batteries to charge (and you definitely don't want your shifters going dead on a ride). If you use a power meter, you should check that, too. Darryl recommends keeping these chargers right by where you store your bike so you can easily recharge them when you need to. 
On Your Off Days
Your off days, the days in between rides, are the prime time to address any issues you noted, along with any routine bike cleaning and maintenance that your trusted two-wheeler workhorse needs. 
This bike cleaning regimen includes your frame, derailleurs, cable, chain and drive train. These parts don't need thorough cleanings after every ride, but every 100 miles or so is a good target (more often in dirty or wet conditions). 
Darryl uses a squirt bottle (no hose!) with plain water and rags to spray down and wipe off his frame. As you clean, look for any nicks in the frame that might need some touch-up paint. Then you can do the same with the wheels, spraying and scrubbing the rims, spokes and hub to clean them off. Remember to change any tires that had significant cuts (from the list you made after the ride). Assuming there's no future damage, your front tire should be good for around 1,500 miles, while your rear should last about 2,500 miles. Flat-resistant tires can last even longer.
As you clean the wheels, look for any small cracks in the rims. These usually form right around the base of the spokes, where they connect to the rim, running parallel to the wheel.
"If you find one of those, it means the death of that wheel, says Coach Darryl. "It is no longer usable."
Those small cracks can become a big problem under pressure — most likely during a hard turn — and cause your rim to give way. This problem could lead to a serious accident, so always be sure to maintain your bike parts and replace rims that have these cracks. 
Aside from these issues, you can address your other routine bike cleaning and maintenance, which includes:
Degreasing your bike chain with an environmentally friendly degreaser anytime it's collected too much dirt and road grime (usually around every 100 miles)
Lubricating your chain after you've cleaned it (note these first two are your most important regular tasks!)
Replacing the chain as needed every 2,500–3,000 miles (look for signs that it's wearing down around the edges)
Checking derailleurs, cables and levers and lubricating after cleaning
Replacing brake pads every 8,000–10,000 miles (sooner if you have disc brakes)
Applying saddle sauce to protect the bike's leather saddle for an enjoyable riding experience
Once you've gone over these items and performed any necessary cleaning and maintenance that's needed, you're all set for your next comfortable and seamless ride. Well, mostly.
Right Before the Next Ride 
On ride day, there are a few more quick things to do. First, you should make sure your tires are full and ready to go. You don't necessarily need to fill them, but you should check. If you're not already adept at the thumb test, now is the time to learn it. 
For the thumb test, you'll want to be able to squeeze your tire with a forefinger and thumb and recognize instantly whether or not it's full enough. To learn this process, fill one tire to the correct pressure. Squeeze that tire several times, and go back and forth while squeezing another tire that doesn't have enough air. Do this until you have a good sense of what correct and incorrect pressures feel like, so you're always ready to check quickly before a ride. 
Once you've ensured both tires are properly filled, turn your attention to the chain to make sure it hasn't come loose. Reset if needed. Finally, lift your wheels off the ground one at a time and give them a good spin to make sure they're not rubbing against the brakes. If you notice any friction, loosen the skewer or through-axle and adjust the wheel's positioning so it's no longer touching when it spins. Tighten the skewer or through-axle down, and you're ready to go!
Have a Plan and a Budget for Maintenance
Bicycle maintenance is an important part of your cycling plan. Coach Darryl's rule of thumb is that if you ride 100 miles a week, you need to spend about an hour a week and $1,000 a year on routine maintenance.
The entire regimen may sound like a lot of work and another expense to worry about, but the costs — both to your wallet and your body — could be much higher if you neglect this important task.
Be sure to follow our blog for more tips and tricks on cycling safety, performance, maintenance, and more. And, as always, look for more insights from Coach Darryl over at his website.
Photo by Julia Schmidt on Pexels.