How To Explain Your Cycling Habit to Your Significant Other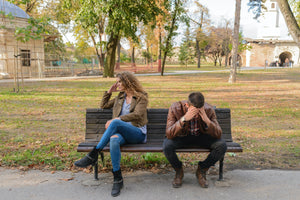 It's that time again. You feel the excitement building as you put on your cycling jersey and double-check your bag to make sure you have everything you need. You head to the kitchen to fill up your water bottle and check the time. 
5:30.
You peek out the window and see the first hint of dawn. Perfect. You'll get on the road just in time to see the sunrise with your cycling group. You're all set to go … when you hear it. 
"You're going cycling again?"
And with that, you're reminded that your husband is not nearly as thrilled about your new cycling habit as you are. Now, instead of jumping on the saddle with a rush of excitement, you head out with a load of guilt on your shoulders.
It's a common scenario, and it can happen in any relationship. Cycling is a big time commitment, and if you're not on the same page with your spouse or partner, it can cause some serious tension. So, if you find yourself in this situation, what can you do to make the case for your cycling habit and strengthen your relationship? As usual, longtime cycling coach Darryl MacKenzie has some nuggets of wisdom for you on how to explain your cycling habit to your significant other.
How To Make the Argument Worse
If you're caught in a disagreement about your cycling habit, the first thing you should know is how not to respond. Although it may be tempting, it won't help to go tit for tat with your partner.
"Yeah, I'm going cycling! I saw that you were watching TV the other day. Do you really need to do that again?" 
That approach won't get you anywhere — it will just encourage both of you to dig in your heels.  So, if you feel yourself getting aggravated and searching for a comeback, take a deep breath and look for a better way. 
A Better Approach: Explain the Benefits of Cycling
Instead of jockeying with your spouse, it's better to start from a place of common ground. Presumably, you care about each other and want to spend a long, healthy life together. If so, you both want to support one another in a commitment to a healthy lifestyle — in whatever way works best for the other person.
Starting from that foundation will put you in a much better position to make the case.
"It's sort of like maintenance in your car," says Coach Darryl. "You've got to do the oil change, and if you don't do the oil change, the car is not going to run like it should in the future." 
If you've found that cycling is the best way for you to keep your health tuned up, then this is your chance to help your spouse or partner understand that. To that end, let's look at some of the key physical and mental benefits of cycling so you're ready to share them when the time comes.
The Physical Benefits of Cycling
Cycling offers a wide range of positives for your physical health. Here are just a few:
The Mental and Emotional Benefits of Cycling
Cycling's advantages aren't only physical. There are major mental and emotional rewards, too:
Cycling is social. Because cycling allows you to work out without constantly running at a high heart rate, it's a much easier endurance sport to do socially. When you're not huffing and puffing, you catch up with your friends and enjoy the time together.
It improves your mental health. Exercise's ability to help fight off mental illnesses such as depression and anxiety has been well documented, but some interesting

new findings

relate specifically to cycling. Because cycling usually takes place outdoors, in the natural environment, it may have even more pronounced effects on mental well-being than indoor forms of exercise.
It can help stave off dementia and mental decline. Committing to any form of regular cardiovascular exercise has been correlated with

improved brain health

in the long run. 
Your Health Matters — To You and Your Partner
By focusing on the many health benefits of cycling, you're playing the long game with your significant other. Instead of arguing about who wastes more time on their habits, you can come together over a common goal: a long, healthy relationship together. 
Besides, as Darryl puts it, "being out on the bike is far better than being at home on the couch listening to the sound of your arteries hardening." 
And really, who could argue with that?
Now that you've explained your cycling habit to your significant other, are you ready to spend more time on the bike? Besides a supportive partner, you need a comfortable saddle that can go the distance with you. Learn what makes our saddles special, and choose yours today.
Look for more insights from Coach Darryl over at his website.
Photo by Vera Arsic on Pexels