Training Series: How To Train for Time Trials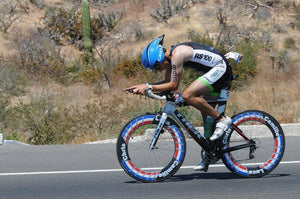 Distance may be the main goal for most road cyclists, but some riders want an extra push to perform. A cycling time trial is the perfect nudge to go a little faster and ride a little harder.
Time trials are a sort of sprint for distance cyclists. They test how fast you can go over a set distance and how well you can keep pace with your own goals. They're not nearly as common as other riding events — in some areas, you may only have a few time trial opportunities per year. If you do have the chance to try one, though, preparing for a time trial can help you drastically improve your speed and endurance.
But what does it take to prepare for a time trial? Is the endeavor similar to training for a century or other cycling events? To find out, we spoke with our friend and longtime cycling coach, Darryl MacKenzie. Here's an exclusive concerning how to train for time trials.
The Goal of a Time Trial
Let's get one thing straight from the start: Preparing for a cycling time trial is not like preparing for a century or any other long-distance ride. Those long rides are primarily about distance and endurance, not speed. On the other hand, a time trial is about getting a little faster and perfecting your pacing. It's a short ride — usually measured anywhere from 20 to 40 kilometers — and you're essentially racing against yourself.
To prepare for that kind of ride, you need a different mindset. 
"The intent is to leave it all on the road, to be exhausted at the end of it and not feel like you could do 10% more miles," says Coach Darryl.
It's easy to miss that mark on your time trial training in two ways. First, you might not pedal hard enough. If you feel like you have energy left over after the ride, you didn't leave it all out there and could have gone faster. Conversely, you might pedal too hard and end up exhausted and unable to keep your target pace for the finish.
Steps To Prepare for a Time Trial 
So, how do you avoid either of those errors? The answer lies in your training. If you're wondering how to prepare for a time trial, here are seven helpful tips.  
1. Choose a Target 
Beginning with the end in mind is especially important when training for a cycling time trial. You can't train appropriately without knowing exactly what you're aiming for.
"Identify the ideal speed that you can do for the entire distance and feel spent at the end," says Darryl.
So, let's say you decide to do a 40 km time trial. Based on your current cycling abilities, what pace would provide a reasonable challenge for you to pedal that distance and totally empty the tank? Maybe you decide on 20 miles an hour for that ride. Great. Make sure you have four to six months to prepare.
2. Plan Your Training
Once you've set your goal, you need to map out your training plan. Over the next four to six months, set aside one or two days a week for focused time trial cycling training. If it's two days a week, make sure they're not consecutive days, as your body needs recovery time in between.
For these training sessions, choose a terrain that's similar to what you'll ride during the event. Most time trials are on fairly level courses, so don't train where there are a lot of hills.
Your other rides throughout the week, not focused directly on your time trial target, should also be designed to help you prepare. The best way to do this? Ride shorter distances at faster speeds. This will help you build muscle strength and endurance to get even better at your target pace.
You can also use some of those other rides to go longer distances at slower speeds to improve your overall stamina. 
3. Warm Up Well 
What about the actual training? What should each session look like? Well, first (and most importantly) is warming up well.
"You're much more susceptible to injury if you're really fast out of the box," says Coach Darryl. "So you've gotta warm up for 20 or 30 minutes to get the blood flowing and protect your body." 
4. Glue It Together
Once you're warmed up, you can start working toward your goal. Here's how to train for time trials using a process Darryl calls "gluing it together."
The idea is that you want to ride as much as you can at your target pace. But you'll need to take breaks in the early stages of your time trial cycling training. So, if your goal is 20 mph, start pedaling at that speed right after you warm up. 
You won't be able to do that for a full 40-kilometer (roughly 25-mile) distance, though. That's fine. Go as far as you can, then slow down and keep riding for a while at a slower pace to get your heart rate down. When the rate reaches 100 bpm or lower for a while, pedal back to your target speed.
With each push, you'll have less energy, so you'll go a shorter distance each time before you need another break. On this ride, let's say you do a 10 km chunk, slow down, then do a 7 km chunk, slow down, then do a 3 km chunk before you're out of gas and soft-pedal the rest of the way.
With each successive ride, strive to stretch those full-speed distances a little farther. Your goal should be to glue those chunks into a full 40 km ride at full speed one month before the date of your time trial.
5. Evaluate Your Performance and Make Adjustments
With one month to go, you should now have a pretty good idea of whether your target pace was a good choice. If you're still struggling to keep that pace for the full ride, dial it back 1 or 2 mph, and spend the rest of your time trial cycling training at that speed.
On the other hand, if you find that you've still got energy after your full rides, now may be a good time to try to bump up the pace a bit. See if you can finish a little faster with just enough energy to complete the time trial. If so, spend the rest of your training at that faster pace. Beware, though, that even a small increase will require a lot more energy.
As a side note, if you're training for a triathlon, you have the most to gain by improving your time on the cycling portion of the event. Since you'll spend more than half of the triathlon on the bike, a 5% speed boost here will matter a lot more than a 5% boost in the water or on foot. 
6. Prep Your Bike 10 Days in Advance
For those wondering how to prepare for a time trial, remember that your bike also plays a critical role. Just as you would for a century, nothing is more important that making sure your bike is in tip-top shape for ride day. Ten days before the event, take your bike in for a complete tune-up so your mechanic can address any issues. You'll also want to put new tires on to help you achieve top speed. You can always refuse your other tires later — you just need those ride-day tires to be fresh. 
Why do this 10 days in advance? You want to be sure you have a chance to ride a few more times before the big day so you can catch any lingering problems after the tune-up.
7. Focus on Pace at the Event 
Of course, when you do a time trial, your ultimate goal is to finish the ride within a certain total time. But during the ride, that shouldn't be your emphasis. Watching the clock and trying to calculate if you're on track won't help you stay focused.
Instead, watch your average speed. If your target was 20 mph during training, then work to stay on that pace through the whole event. Stay steady, and the time will take care of itself. 
Keep the Pace 
That's everything you need to know to prepare for your first cycling time trial. If you're not used to riding like this, it will be a stretch for you. But that challenge is what makes it exciting — and ultimately makes you a better cyclist. 
Good luck out there!
Look for more insights from Coach Darryl over at his website. 
Image by Elihu Del Valle from Pixabay