Choosing the Right Bike Seat Has a Major Impact on the Quality of Your Rides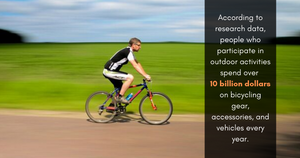 Riding bikes is a great form of exercise, exploration, and socialization. But you may have noticed that bike rides can quickly get uncomfortable if you do not have the right seat. The right bike seat relieves tension and takes some of the pressure off the rest of your body so you can focus on the ride, and not your discomfort.
The best choice you can make for the overall quality of your ride is consulting with the right leather bike saddle provider. If you work alongside a dependable, experienced supplier then you get the added benefit of their industry-specific knowledge. Sometimes it is difficult to know which type of bike seat is best for your riding style and your body type. When you consult a manufacturer, you can share your thoughts and preferences and they can cater to some different choices for you based on what you want to get out of your rides. For example, if you are someone who uses your bike as a daily commuting vehicle, you might want to consider investing in a leather bike saddle. If, on the other hand, you are doing strenuous mountain bike riding, then other kinds of seats might be more preferable. When you work with a trusted manufacturer, they can help you arrive at the right seat for your situation.
It's interesting to note that most riders are willing to invest significant money into ensuring that they have the best, smoothest ride possible. As a matter of fact, according to research data, people who participate in outdoor activities spend over 10 billion dollars on bicycling gear, accessories, and vehicles every year. When you take this number into account, it is no surprise that there are so many different types of bike saddles for every kind of rider. The challenge, then, becomes determining which type is right for your particular wants and needs.
If you are looking for a leather bike saddle, a road bike saddle, a vintage bike seat, or any other types of comfortable bike seats, but you are just not sure how to get started or where to look, then do not hesitate to get in touch with us today. With years of experience in the bicycle industry, our team of specialists would love to help you find a bike seat that takes your bike riding experience to the next level. No matter how large or small your needs may be, we have the knowledge to help you find what you need.