Expert Tips for Choosing the Best Bike Seat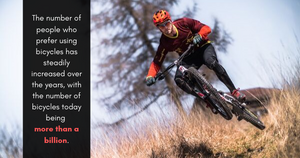 The number of people who prefer using bicycles has steadily increased over the years, with the number of bicycles today being more than a billion. That's about twice as many cars as there are around the world.
If your current leather road bike seat has become uncomfortable, you're likely considering a replacement. For all cyclists, a comfortable bicycle saddle is a top priority. The goal is to have a bike seat that's perfectly suited to your body mechanics and the kind of riding you do.
There are, of course, lots of options to choose from, and identifying the best design, cushioning, material, and size can seem like an impossible task. In this article, you'll find some expert tips on how to choose a comfortable bike seat.
Think About Your Type of Riding
Bike seats are typically placed into different categories depending on the type of riding bikers do. There are saddles specifically for recreational riding. These saddles tend to be wide and come with plush padding. They're perfect for the commuter or urban commuting.
If you love bike touring, then opt for a touring saddle, which typically has a fairly long and narrow nose. These seats provide cushioning for the cyclist's sitting bones. Road bike saddles are ideal for cyclists who love racing or covering significant road miles. These seats have minimum padding to allow maximum power transfer during pedaling.
There are mountain-specific saddles as well. These are usually streamlined and have padding for your sit bones. If you prefer to ride during all weathers, you may want to consider a leather road bike seat that's weather resistant.
Choose a Suitable Cushioning
The most comfortable bike seats generally come in two broad categories. The first category is performance-based and comes with minimal cushioning. Performance saddles are usually long and narrow and are designed to increase power transfer while reducing chafing. Such seats are best for cyclists with touring, road, or mountain bikes.
The second kind of saddles are referred to as cushioning saddles. These are typically wide and incorporate springs or plush padding. These comfortable bike seats are perfect for absorbing bumps on the road. If you love recreational cycling or cruising, these are the saddles to go for.
Keep in mind that saddle pads are optional add-ons that can be added over any kind of saddle for extra comfort. If you don't need or want it, you can remove it, especially for longer or faster rides.
Decide On a Center Cutout
Leather bicycle saddle manufacturers usually focus on protecting your perineum. This is the area between your sit bones. To relieve pressure on your perineum and add comfort, the leather road bike seat has reduced material in the center.
Of course, some riders prefer no center cutout because each rider has ta different anatomy. Others opt for side-by-side cushions and a noseless saddle. It's all about personal preference. You may opt to test the saddle to find out what works best for you.
Choose a Suitable Saddle Material
The saddle material that your bicycle saddle is made of determines things like weight, break-in time, and flex. Pay attention to the rails and cover. Go for a leather road bike seat. Not only are leather bike saddles durable, but also very comfortable.
Many leather saddles are made solely from leather. After the break-in period of approximately 200 miles, the leather perfectly molds to your shape and weight, fitting like a glove.
One of the upsides of leather bike seats is that they look great. A black leather bike seat and a brown leather bike saddle are among the most popular options with cyclists around the world. Leather seats are also easy maintenance.
Conclusion
Choosing a bicycle saddle that's ideal for your anatomy and your preferred kind of riding does not need to be an overly challenging affair. With a little bit of research and preparation, you can find a saddle that works for you and begin to enjoy the benefits of having a comfortable bike seat.