How Custom Can a Custom Bike Seat Be?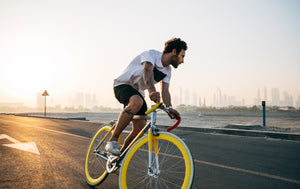 Cycling is one of the best physical activities to get into, especially during the warmer months. Not only are you getting a great low-impact workout, you're seeing all the sights at the same time. But what if your seat isn't what you want, or just isn't comfortable?
Fortunately, it's quite common to have your bicycle seat customized. Let's take a look at just a few of the ways you can customize the most comfortable bike seats.
Slotted Saddle
Whether you're experiencing sit pain or want to protect your perineal area at all times, bicycle seats with a slot down the middle can help. These custom bike seats can often help alleviate sit bone or perineal pain and help maintain airflow to the pelvic region while you ride.
Laced Bicycle Seats
Your current black leather bike seat looks amazing, but the saddle leather is flaring out and chafing the inside of your thighs. That can be uncomfortable! Fortunately, there's a customization for that. Lacing your saddle can help alleviate that uncomfortable chafing and make for a more comfortable cycling experience all around.
Beveled Edges
Remember that slot we talked about earlier? Sometimes, it's not a "one size fits all" situation. If you find your slotted black leather bike seat uncomfortable, you can have the slot customized with beveled edges. These edges are smoother, offer more curvature to your slot, and can help reduce saddle impact on soft tissue.
Custom Saddle Pads
If you love your bike seat but want some more cushioning, consider adding a padded cover over the top. This can help reduce saddle impact on your sit bones and soft tissue. Be careful, though. Some covers can slip around on your seat if applied incorrectly.
Get Fitted
Whether you want a black leather bike seat or a carbon fiber bike seat, the truth is that it can be as custom as you want. Considering that people spend over $10 billion annually on cycling gear and accessories, it's not too much of a stretch to assume people get fitted for custom bike seats every so often. This ensures the most comfortable fit for your body type and cycling style.
So how custom will your next bike seat be? Whether you decide to go full custom-fitted or you want a slotted seat's edges beveled, let us know. Selle Anatomica is here to cater to your custom bike saddle needs.